Murder Most Welcome
by Nicola Slade
Reviewed by Margaret Donsbach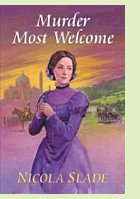 In the acknowledgements prefacing Murder Most Welcome, Slade expresses appreciation for her "favorite Victorian novelists, Charlotte M. Yonge and Mrs. Henry Wood," popular authors of the late nineteenth century. It was a compliment then to call a novel "pathetic"—evoking pathos. While Slade's novel is more humorous and less syrupy than the typical Victorian offering, it remains more tribute than parody.
Victorian heroines who suppressed their personal desires to minister to afflicted family members (however undeserving) were considered models of virtue. They are admired in this novel too. Stock characters of the past parade through: the autocratic widow too infatuated with her firstborn to recognize his faults, the silly (but kind) spinster forever on the brink of tears, the wife so broken by her single failed effort at childbearing that she dares risk no more. Even a mysterious foreigner lurks about the village.
The novel's style reflects the mingled prurience and reticence of the Victorians. Our heroine, a reformed thief with a heart of gold, entered a marriage of convenience with a man whose inclinations (shudder) did not encompass the female gender. On their wedding night he did something so unspeakable to her that the author never reveals what it was.
Murder Most Welcome is a novel of manners and mores; as a mystery, it lacks punch. The opening paragraphs skip ahead to let readers know the heroine is not really the widow she believes herself to be and that her husband will be murdered shortly after he reappears. He doesn't reappear, though, until a third of the way into the story, nor does the murder occur until some two-thirds of the way through. Readers looking for a romp through a literary style of the past rather than a typical mystery may find Murder Most Welcome most welcome. (2008, 224 pages)
More about Murder Most Welcome at Amazon.com

Novels by Nicola Slade's favorite Victorian authors:
The Heir of Redclyffe by Charlotte M. Yonge (1854), about a husband and wife who exemplify the ideal pattern of Victorian matrimony. More info
The Caged Lion by Charlotte M. Yonge (1854), about a scholarly young Scottish nobleman in the fifteenth century who gives up the life of a monk to enter the service of James I. More info
Mrs. Halliburton's Troubles by Mrs. Henry Wood (1862), about a hardworking widow whose strong will and piety spare her the scandalous fate of her dissolute cousins. More info
Anne Hereford by Mrs. Henry Wood (1863), about an orphaned girl living with her aristocratic relatives; "Jane Eyre shot through with scandal and sensation." More info

Nonfiction about life in Victorian England:
The Suspicions of Mr. Whicher: A Shocking Murder and the Undoing of a Great Victorian Detective by Kate Summerscale, about a shocking 1860 murder, the Scotland Yard detective whose life it destroyed, and the invention of the modern detective story. More info
Our Own Book - A Victorian Guide to Life by Diane Janowski, a reprint of an 1888 household guide including recipes like "Boiled Bullock's Head" and instructions on "How and when to take a bath." More info
Victorian and Edwardian Fashions from "La Mode Illustree" by Joanne Olian (1997), a lavishly illustrated guide to fashions of the past from mourning clothes to cycling outfits. More info

Online:
"Victorian Mourning Customs from Collier's Cyclopedia published in 1901" at QuiltHistory.com



Back to Novels of 19th Century Europe

Back to Directory of Book Reviews