The Muralist
by B.A. Shapiro
Reviewed by Margaret Tomlinson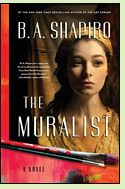 The Muralist is about a fictional artist working for the WPA Federal Art Project, part of Franklin Roosevelt's New Deal initiative to restore the US economy after the Great Depression. Artists who later became noted abstract expressionists, like Mark Rothko, Jackson Pollock and Lee Krasner, were hired through the WPA to create murals for public buildings.

The novel imagines a "missing link" between representational art and abstract expressionism: the fictional Alizée Benoit, the orphaned American daughter of Jewish immigrants from France. In the present-day frame story, Alizée's great-niece Danielle, a young employee at Christie's auction house, discovers a group of unsigned paintings which remind her of her great-aunt's only known work, two semi-abstract paintings given to Danielle by her grandmother. Alizée "disappeared under shadowy circumstances in 1940," and the novel moves between Danielle present-day search for clues to Alizée's story, and the emotionally frail Alizée in the late 1930s.

Breckinridge Long, an assistant secretary of state in Franklin Roosevelt's administration during World War II, deliberately obstructed and delayed the issuance of visas to Jews fleeing territory occupied by Nazi Germany. His policy's cruel results are explored in The Muralist, and have become sadly relevant in 2017 as a new U.S. administration imposes limits on immigration by refugees fleeing war-torn countries. But although Long's policy and its effects are based on historical fact, an attempt to assassinate him depicted in the novel is not. Fiction has the power to illuminate history by portraying imagined characters and events, helping readers understand how and why events came about, or may have come about. But readers can be misled, confused or irritated when events that did not happen are too freely mixed with those that did. In my view, this novel steps over the line by depicting real historical people in highly dramatic situations that did not happen. (2015, 337 pages)
More about The Muralist at Powell's Books
or
The Book Depository
Other novels set during the Depression and WWII:
The End of the Jews
by Adam Mansbach (2009), about a novelist in the 1930s who is the son of Jewish immigrants to New York, his grandson in the 1980s, and the photographer the grandson meets in a jazz club in Prague.
More info
Dissident Gardens
by Jonathan Lethem (2013), about the Communist Party in America through the experiences of an unconventional Jewish woman in Queens, NY, and her daughter and grandson.
More info
The Golden Age
by Gore Vidal (2000), about a newspaper publisher and her nephew, who publishes an independent intellectual journal, during the years from 1939 to 1954.
More info
Nonfiction about the abstract expressionists and the Roosevelt administration:
Mark Rothko: A Biography
by James E.B. Breslin (1993).
More info
For the Millions: American Art and Culture Between the Wars
by A. Joan Saab (2009), about the WPA Federal Art Project and the newly opened Museum of Modern Art in the 1930s and how they reshaped the place of art in American society.
More info
No Ordinary Time: Franklin and Eleanor Roosevelt: The Home Front in World War II
by Doris Kearns Goodwin (1994).
More info
Online:
Breckinridge Long
at the US Holocaust Museum website
Back to Directory of Book Reviews
Back to America Between the Wars