Mother of the Believers
by Kamran Pasha
Reviewed by Margaret Donsbach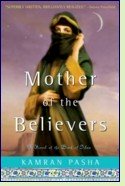 Aisha became a "Mother of the Believers" at age nine when she married the Prophet Muhammad. Cherished as his favorite wife, she was present when he received most of his revelations, later set down in writing as the Koran. He died when she was nineteen, after which she devoted much of her life to repeating his words, explaining his beliefs and telling stories about his life, so that she became instrumental in the development of Islam.
Mother of the Believers is narrated by Aisha as an old woman nearing death, so even the early chapters about her childhood are told from a mature perspective. The emphasis is less on Aisha's personal story than on the story of Islam as it grew from a tiny community of beleaguered followers of Muhammad to a theological and political system that dominated the Middle East by the end of her life. It's quite a story: full of passionate enmity and warfare, game-changing conversions, cowardice and courage, and understated miracles like the bowl of wedding milk that remains full no matter how many guests drink from it.
There are multitudes of minor characters, but the major characters stand out memorably. Muhammad is central, an awe-inspiring figure who is also deeply human. "I had never met any other man who enjoyed simple housework like fixing shoes or sewing patches in old clothes.... As I watched him slowly suture his footwear, his black eyes utterly focused on and absorbed in the task before him, I realized how difficult it must have been for a boy with a gentle temperament to grow up in a world where cruelty and aggression were the proud hallmarks of a man." One of the ironies of Islam (as of Christianity) is that a religion whose founder was committed to living in peace should have had such a bloody history.
For those who know little or nothing of the history of Islam, Mother of the Believers is an absorbing and moving introduction. (2009, 528 pages)
More about Mother of the Believers from Powell's Books

Other novels about Aisha and the early years of Islam:
The Jewel of Medina by Sherry Jones (2008), a coming-of-age story about Aisha. More info
Khalifah: A Novel of Conquest and Personal Triumph by John Elray (2002), about power struggles within the Islamic movement during the decades after Muhammad's death. More info
The Adventures of Amir Hamza by Ghalib Lakhnavi and Abdullah Bilgrami (may date as early as the seventh century A.D.), an early saga about an uncle of the Prophet Muhammad. More info

Nonfiction about Aisha and Muhammad:
Aishah, the Beloved of Mohammad by Nabia Abbott (1942). More info
The Wives of Prophet Muhammad by Bint al-Shati (2002). More info
In the Footsteps of the Prophet: Lessons from the Life of Muhammad by Tariq Ramadan (2007). More info
Muhammad: A Prophet for Our Time by Karen Armstrong (1992). More info

Online:
Short biography of Aisha at www.Jannah.org



Back to Historical Novels of the Middle East

Back to Directory of Book Reviews