The Morning Gift
by Diana Norman
Reviewed by Annis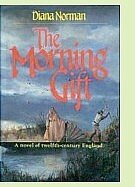 The Morning Gift is the story of the indomitable Norman heiress, Matilda de Risle. Born November 25, 1120, her life is shaped by a shipwreck that very day off the coast of Normandy. The drowning of William Atheling, only legitimate male heir to King Henry I of England, would precipitate a devastating civil war, known as The Anarchy. For nineteen long years the people of England cried to God for deliverance: "Exsurge, quare obdormis, Domine? Arise! Why sleepest Thou, O Lord? Arise, and cast us not off forever!"
Bossy, class-conscious Matilda is unimpressed with the customary Saxon "morning gift" granted to her after their wedding night by her genial first husband, Sigward: "A bolthole, m'dear, somewhere to hide should trouble come." The Isle of Dungesey in the middle of the watery East Anglian Fenlands seems dismal and alien, as do its impudent Saxon inhabitants. They in turn regard their imperious new lady, Matilda, with tolerant bemusement. '"Sparky little flower", shouted Badda to Thurched, who shouted back: "She'll verrylike give us a tidy amount of no good."'
Following Henry I's death, however, Dungesey, with its quirky, steadfast people, becomes a lifeline for Matilda. In a violent, incomprehensible world of ever-shifting loyalties it remains a constant haven as she struggles to save her lands, her son and her sanity.
The combatants of the Anarchy period throng Matilda's eventful life; barons, bishops, knights and soldiers, the warring King Stephen and Empress Matilda, and, fizzing with restless energy, the young Fitzempress, future King Henry II of England. Above all The Morning Gift is a pæan to the otherwordly Fens. "They dwindled from humans to ants, specks in the eye of God under a skyscape which altered natural laws. Skimming clouds became slow-moving in contrast with the distance they had to travel. A skein of birds formed a circle and wheeled it so that the earth spun." (1985, 286 pages)
More about The Morning Gift at Amazon.com

Other fiction set in the Anarchy period of the wars between King Stephen and Empress Matilda, 1135-1154:
When Christ and his Saints Slept by Sharon Penman (1994). More info
Knight in Anarchy by George Shipway (1969). More info
The Earl (also titled Hammer for Princes) by Cecelia Holland (1979). More info
A Place Beyond Courage by Elizabeth Chadwick (2007). More info
A Morbid Taste for Bones by Ellis Peters (1977) (More info) and the rest of the Brother Cadfael mystery series (for complete list see the Medieval Normans section).

Nonfiction about the Anarchy period:
Stephen and Matilda by Jim Bradbury (1998). More info
The Anarchy of Stephen and Matilda by Stephen M.Taylor (1996). More info
The Reign of King Stephen, 1135-1154 by David Crouch (2000). More info

Online:
Wikipedia article on Dower about dowers, morning gifts and their history.
Wikipedia article on The Anarchy
Excerpt from the Anglo-Saxon Chronicle describing the horrors of the Anarchy period at www.eyewitnesstohistory.com