Mistress of the Sun
by Sandra Gulland
Reviewed by Margaret Donsbach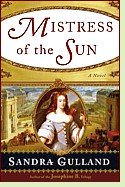 Louise de la Vallière, the subject of Mistress of the Sun, was not a typical king's mistress. Quiet and devout, she was not outstandingly beautiful and wore a special shoe to mask the fact that one of her legs was shorter than the other. She was, however, a remarkable horsewoman. A white horse is the first romantic love in six-year-old Petite's life. The beautiful, vicious stallion is called Diablo, and he endures no rider. "Bone magic is about the only thing that would turn him now," comments a Moorish horse whisperer, who then warns the intent Petite to "have nothing to do with it.... It is the Devil's power, and the Devil gives away nothing for free."
A decade later, King Louis XIV is as entrancing as Diablo. In his early twenties when seventeen-year-old Petite becomes lady-in-waiting to his sister-in-law, he is so handsome women swoon in his presence. He is socially adept, athletic, a skilled dancer and a passionate horseman. Alas, the Devil gives away nothing for free. Petite's generous, uncomplicated love for Louis the man cannot exist apart from the vicious realities of life in the court of Louis the King of France.
Mistress of the Sun portrays both the brittle, artificial pleasures of the Sun King's extravagant court and the human—indeed, animal—nature of those who lived there. Diamonds turn out to be paste; lakes that glitter magnificently under fireworks prove to be choked with algae by day; friends become betrayers. And yet, while the story of Petite's love affair with the king ends badly, the story of Petite herself remains persistently deeper and more hopeful. (2008, 382 pages including an Author's Note separating fact from fiction)
Mistresss of the Sun is on my "Best Historical Novels I Read in 2009" list.
More about Mistress of the Sun from Powell's Books

Other novels about Louise de la Vallière and the Sun King's court:
Louise de la Vallière by Alexandre Dumas (1847), part 2 of Dumas's three-part novel The Vicomte de Bragelonne, one of the Three Musketeers romances. More info
Anne of Austria by Evelyn Anthony (1968), a biographical novel about Louis XIV's mother. More info
Angelique and the King by Anne Golon under the pen name Sergeanne Golon (1959), about a fictional heroine who refuses Louis's amorous advances; #3 in the Angelique series. More info

Nonfiction about Louise de la Vallière, Louis XIV and Louise's rival Athénaïs:
La Petite: Louise de la Vallière by Joan Sanders (1959). More info
Love and Louis XIV by Antonia Fraser (2006). More info
Athénaïs by Lisa Hilton (2002). More info

At the movies:
The Taking of Power by Louis XIV by Roberto Rossellini (1966), well-regarded for the authenticity of its recreation of Louis's court.
More info

Online:
Wikipedia article about Louise de la Vallière

Louis XIV as a sexy young king: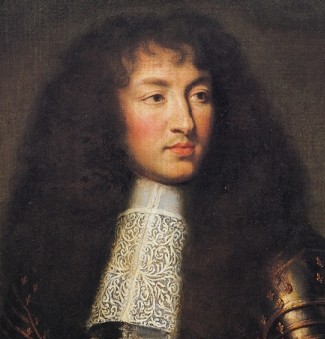 Back to Historical Novels: 17th Century

Back to Directory of Book Reviews