Mistress of the Art of Death
by Ariana Franklin
Reviewed by Margaret Donsbach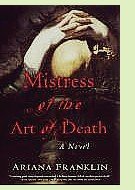 Adelia Aguilar is a mistress of the art of death, unusual even in multi-cultural medieval Salerno, Italy, where women are allowed to study medicine, and Jews, Muslims and Christians live alongside each other in mutual respect. Adelia is, in essence, a forensic physician, trained in dissecting the bodies of the dead to find out why and how they died.
King Henry II of England may be an absolute monarch, but in 1171 his power is at a low ebb. Rather than face the dire prospect of excommunication, he recently submitted to Church punishment for his role in Thomas Becket's murder. Now, a rash of child murders in Cambridge has outraged his subjects, most of whom believe Jews are killing the children in gruesome ritual sacrifices. Henry will lose crucial tax revenues, levied at a higher rate on Jews than Christians, if the Jews are driven from his realm. He is in desperate need of someone with Adelia's skills to uncover the truth, and quickly.
Franklin's literate and rich, but informal, language brings the reader right inside her characters. "Damn all this secrecy. She would have to keep the door open in order to have enough light—and the place was already beset by flies trying to get in. How did they expect her to work in these conditions? Adelia put her goatskin bag on the grass outside, opened it to check its contents, checked them again—and knew she was putting off the moment when she would have to open the door. This was ridiculous; she was not an amateur. Quickly, she knelt and asked the dead beyond the door to forgive her for handling their remains…. 'Permit your flesh and bone to tell me what your voices cannot.'"
The gripping suspense in Mistress of the Art of Death comes as much from the depth in the author's portrayal of her characters as from their tense and dangerous situation and the riddle behind the murders. (2007; 278 pages)
This is on my list of The Ten Best Historical Novels I Read in 2008.
More about Mistress of the Art of Death from Powell's Books

Some similar novels by this author:
Ariana Franklin is a pen name of Diana Norman. Her 1980 novel Fitzempress' Law
is so well regarded by connoisseurs of historical fiction that it is now almost impossible to find at an affordable price. Mistress of the Art of Death centers on a similar theme, Henry II's legal reforms, but is readily available. See Sarah Johnson's excellent review of Fitzempress' Law.
The King of the Last Days by Diana Norman (1981), about a young monk and his risky mission to bring Henry II a sword believed to be King Arthur's Excalibur; also out of print and hard to find.
The Serpent's Tale by Ariana Franklin (2008), a sequel to Mistress of the Art of Death.

Other novels about Henry II's England:
God and My Right
by Alfred Duggan (955), about Thomas Becket.
Time and Chance by Sharon Kay Penman (2002), about Henry II and Eleanor of Aquitaine; #2 in a series beginning with When Christ and His Saints Slept.



Back to Historical Novels: Medieval/Angevins

Back to Directory of Book Reviews