Mistress Shakespeare
by Karen Harper
Reviewed by Susan Gillmor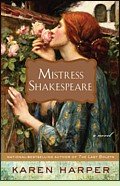 Mistress Shakespeare, a fictionalized autobiography of William Shakespeare's first (and secret) wife, is spun from scarce, intriguing snippets in the historical record. For example, the day before the shotgun marriage of William Shakespeare and Anne Hathaway, an entry appears in the Worcester public registry that "Wm. Shaxpere" is to wed a certain "Anne Whateley of Temple Grafton."
From their childhood friendship on the banks of the Avon to a budding romance when her half-Italian dark beauty finally catches Will's eye, Anne Whatley's story spans nearly fifty years of their mutual love of theatre, words and each other, enforced separations and passionate reunions. A love story, this is also an intimate account of the renaissance of Elizabethan theatre, recounting its political treacheries and dangers along with an insider's view of the great political and literary players of the period.
Anne, a successful businesswoman and helpmeet in Will's stage career, is trapped in London during a 1592 resurgence of Black Plague. Out on the streets "with an onion stuffed with figs, rue and treacle about my neck to ward off deadly air," she finds herself "alone without my friends, without Will, without anyone." Forced by the strict curfew to return to her house where her friend has just died of the plague, she hears "the banging of nails. . . sounded from the front door and then the back," as if being "sealed in a coffin."
Mistress Whateley produces allusions aplenty from Shakespeare's plays and sonnets hinting at a secret wife: "Let me not to the marriage of true minds/Admit impediments. . ." from Sonnet 116; from King Henry IV, "For what is wedlock forced but a hell/An age of discord and continued strife?/Whereas the contrary bringeth bliss." And "on it went in all his later plays, should anyone care to consult them."
Although at times the circumstances "proving" Anne Whateley's claims seem pat, in the main Mistress Shakespeare is a provocative, well-told tale about Shakespeare's "wife not of his hearth but of his heart." (2009, 370 pages including an Author's Note)
More about Mistress Shakespeare at Powell's Books or Amazon.com

Other novels about Shakespeare:
The Sonnets by Warwick Collins (2008), about Shakespeare and his "dark lady." More info
Dark Lady by Michael Baldwin (1998), a novel which imagines that the "dark lady" of Shakespeare's sonnets was the daughter of a witch.
More info
The Players by Stephanie Cowell (1997), about a love triangle involving the young Shakespeare, a nobleman, and a beautiful Italian musician.
More info
Mrs. Shakespeare: The Complete Works by Robert Nye (1993), a bawdy novel about Anne Hathaway Shakespeare. More info
The Quality of Mercy by Faye Kellerman (1989), about a young woman, a secret Jew, who goes adventuring with young Will Shakespeare. More info

Nonfiction about Shakespeare and the women in his life:
The Man Shakespeare by Frank Harris (1909), discusses the Anne Whatley record as evidence Shakespeare was involved with more than one woman. More info
Shakespeare's Wife by Germaine Greer (2007), about Anne Hathaway. More info
Shakespeare: The Biography by Peter Ackroyd (2005). More info

Online:
"Anne Whateley" at Wikipedia.



Back to Novels of the Renaissance

Back to Directory of Book Reviews