Merivel: A Man of His Time

by Rose Tremain

Reviewed by Annis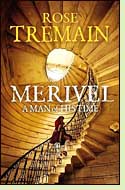 A bittersweet coda to Restoration, Merivel is set at the end of Charles II's reign. Fifteen years on, the mood is less jouissance and more post-coital tristesse. Sir Robert Merivel, physican, accidental courtier and King's Fool, is despondent. "At the Restoration", he laments, "there was a time of Opportunity, which you and I saw with our own eyes, but it is squandered and gone".
While the still charismatic but not-so-merry monarch grows weary, his lovable Fool is plagued by intimations of mortality and embarrassing fits of "blubbing". Having always chosen to deal with the present by consigning the past to oblivion, he's now consumed with anxiety about the future. His beloved daughter Margaret is ready to leave the nest and his faithful old servants are becoming dangerously decrepit. He bemoans the impulsive nature which is his frequent downfall and chief charm, then impetuously decides a trip to Versailles will be just the answer to his melancholia.
Although no longer in a youthful "lather of heat", Merivel's endearing humanity and propensity for misadventure remain undimmed. Behind the magnificent façade of the Sun King's court all that glitters is far from gold. There's a sorrowful brown bear involved and, as always, a woman.
Writing with wit and stylish maturity, Tremain creates an earthy, richly textured world with a distinctively seventeenth-century sensibility. Unbridled hedonism and Puritan austerity, Renaissance humanism and modern science all coexist uneasily at the intersection of religion and superstition. Cynical Charles believes implicitly in the divine power of the King's Touch; Merivel composes a discourse on his possible Endings, a poignant attempt to apply scientific rationality to his fear of death.
Sir Robert's final romp is picaresque tragicomedy; melancholy leavened by rueful laughter. Capricious fate remains unmoved by tears or treatises. And as Rosie Pierpoint, his favourite bawd, reminds us: "The World is as it chooses to be and Sir Rob was one who knew it well." (2012, 352 pages)
More about Merivel: A Man of His Time at Powell's Books
,
Amazon.com
or
The Book Depository
Other novels set during the Restoration:
Restoration
by Rose Tremain (1989), the first novel about the fictional Robert Merivel, physician to King Charles II's dogs.
More info
The King's Touch
by Jude Morgan (2002), about Charles II from the perspective of his eldest son.
More info
The Loves of Charles II
by Jean Plaidy (1956-1957), an omnibus edition of Plaidy's trilogy about Charles II,
The Wandering Prince
,
A Health unto His Majesty
and
Here Lies Our Sovereign Lord
.
More info
Nonfiction about melancholia and Charles II:
The Anatomy of Melancholy
by Robert Burton (1621).
More info
A Gambling Man: Charles II's Restoration Game
by Jenny Uglow (2009).
More info
The Sun King: Louis XIV at Versailles
by Nancy Mitford (1966).
More info
At the Movies:
Restoration
, the 1995 movie based on Tremain's novel of the same name and starring Robert Downey Jr. as Merivel.
The Last King: The Power and the Passion of Charles II
, a BBC/A&E edition of the historical drama starring Rufus Sewell as Charles II and Diana Rigg as his mother, Henrietta Maria.
Online:
The More Things Change...
, an especially charming review of Burton's
The Anatomy of Melancholy
at The History Girls website

Back to Historical Novels: 17th Century

Back to Directory of Book Reviews