Mephisto Waltz
by Frank Tallis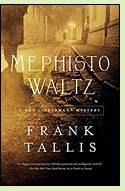 Mephisto Waltz, seventh in the Max Liebermann Mystery series, unfolds in Vienna at the turn of the twentieth century. It was a time and place of high culture, from music and art to coffee and pastries; of scientific advances, from photographic equipment and fingerprinting techniques to the psychoanalytic theories of Sigmund Freud; and of dissatisfaction, disruption and change emerging in everything from the social roles of women to the rise of anarchist movements. Max Liebermann is a psychiatrist and follower of Freud's theories who often finds himself assisting his friend, police detective Oskar Rheinhardt. They are just two of a large, vividly described cast of characters. 

Mephisto Waltz opens with a historical event which sets the tone for the fictional murder case which Rheinhardt, with Liebermann's assistance, must attempt to solve amid a complex and sometimes gruesome mass of clues, some of which prove misleading. Almost throughout, the reader knows more than the investigators, including glimpses of a sinister character with a "pointed beard and aquiline nose" who resembles "Lucifer, in the guise of an aging libertine." Though this man is clearly implicated in some way, he remains cloaked in enough mystery to keep readers wondering how he ties into the details of the case.

The chapters are short, often just two or three pages, creating a mosaic-like impression of fin de siècle Vienna and its people. As with a mosaic, the story's overall shape can be hard to make out until enough scenes pile up for readers recognize the recurring characters and the patterns of their lives, something that will likely be easier for readers familiar with the central characters from other novels in the series. Distinctly of their time, the characters nevertheless suggest parallels to people and phenomena of our own time, as for example when Liebermann reflects that "large groups, crowds, especially, are characterized by extremities of action. The usual prohibitions of civilized life cease to have effect and violence can easily erupt." (2018; 293 pages, including a Note on History and Sources)
More about Mephisto Waltz at Powell's Books
or
The Book Depository
Other mystery novels set in turn-of-the-twentieth-century Vienna:
A Death in Vienna
by Frank Tallis (2005; titled
Mortal Mischief
in the U.K.), Liebermann helps Rheinhardt investigate the death of a beautiful medium; #1 in the Liebermann Papers series.
More info
The Empty Mirror
by J. Sydney Jones (2009), about a Jewish lawyer in 1898 Vienna who investigates the murder of a woman who modeled for the artist Gustav Klimt; #1 in the Karl Werthen mystery series. See
review
or
more info at Powell's Books
Nonfiction about the history of Vienna:
The Age of Insight
by Eric Kandel (2012), about the pioneers of art, science and medicine in 1900 Vienna, written by a neuroscientist who ties the creative ferment of historic Vienna to modern theories of the brain.
More info
A Nervous Splendor: Vienna, 1888/1889
by Frederic Morton (2011), about the murder-suicide of Crown Prince Rudolf and his mistress, and the young Freud, Mahler, Klimt, and other creative people of Vienna near the end of the nineteenth century.
More info
Online:
The website of Vienna's
Sigmund Freud Museum
Back to Twentieth Century: Europe Before the Wars
Back to Directory of Book Reviews