The "Masters of the Sea" series

by John Stack

Reviewed by David Maclaine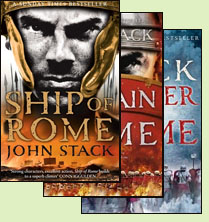 The only fiction on the market that covers the First Punic War is John Stack's Masters of the Sea series. It's the default choice for readers who want to experience the ups and downs of the 25-year conflict fought mostly in the sea lanes around Sicily and marking the beginning of Rome's struggle to become the most powerful nation in the Mediterranean.
The novels in Stack's series, Ship of Rome, Captain of Rome and Master of Rome, will take you through those events with just enough competence to earn a rating of "satisfactory" for the journey. Reading them is like taking a trip to an exotic location you've dreamed of visiting, only to discover that the only way to get there is in a barely-functional van driven by a guide who, while he gets you to each key landmark on time, tells you about it with an off-putting spiel that grows more grating with each stop. Most frustrating is his repetition of old historical myths.
Here's what Harry Sidebottom, who provides the most lavish account of his own sources you'd hope to find, says of a key component of Stack's series: "The litmus test of the under-researched historical novel set in the classical world is the inclusion of slave oarsmen, usually complemented with anachronistic whips, chains and drums. The briefest glance at the magisterial Ships and Seamanship in the Ancient World by Lionel Casson ... dispels any such notion." Clearly Stack has not managed that glance; he includes every ersatz detail on Sidebottom's list. But if you can forgive this major gaffe and don't demand that your tales of nautical adventure include much literary merit, you'll be able to finish Masters of the Sea without too much gnashing of teeth. And when you move on to the next stage and start to read about Hannibal's resumption of the war between Carthage and Rome, you won't have a nagging sense of walking into a play having missed Act One.
The "Masters of the Sea" series:
#1: Ship of Rome. See
review
or
more info at Powell's Books
#2: Captain of Rome. See
review
or
more info at Powell's Books
#3: Master of Rome. See
review
or
more info at Powell's Books
The "Masters of the Sea" series appears on the list of
The 50 Best Historical Novels for a Survey of Ancient Roman History
Back to Novels of Ancient History
Back to Directory of Book Reviews