The Master of Verona
by David Blixt
Reviewed by Annis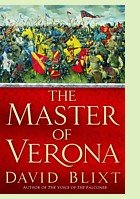 Fate or free will? The Master of Verona has at its heart the question which has vexed mankind since time immemorial. Are we merely the playthings of fate? Can we change our destiny through our actions or by predicting the future? In Shakespeare's play about the "star-cross'd lovers" of Verona, Romeo rages, "Then I defy you, stars!" But in trying to circumvent his fate by choosing to commit suicide, does he not in fact fulfill it?
As rival city-states in fourteenth century northern Italy warred in the names of Pope and Holy Roman Emperor, a new movement arose. Inspired by the literature of ancient Greece and Rome, humanism celebrated the achievements and potential of man. The issues of fate, free will and virtue explored in Dante Alighieri's masterpiece, The Divine Comedy, took on renewed significance in light of this new philosophy.
In 1314, the poet Dante, accompanied by his sons Pietro and Jacopo, joins the household of a new patron: the lord of Verona, brilliant, tormented Francesco "Cangrande" della Scala, a man driven by a prophecy. Seventeen-year-old Pietro makes two new friends, whose feud over a beautiful girl divides the city of Verona itself. Swept up by the charismatic Cangrande, Pietro takes part in a battle and performs an act of reckless bravery that will change forever the course of his life.
Family dynamics, intrigue, violence and treachery all play their part in this mercurial, complex adventure set at the cusp of the Renaissance. Loyal, straightforward Pietro is a constant in a paradoxical world where nothing is quite as it seems. Cangrande rails bitterly against fate, but among the many riddles posed by The Master of Verona, one remains as yet unsolved: Who is the real Fool of Fortune? (2007, 592 pages)
More about The Master of Verona from Powell's Books

Short stories by David Blixt:
"San Bonifacio's Curse", about the villainous Count of San Bonifacio, one of the characters in The Master of Verona. More info
"Varnished Faces", about the wedding of the characters in Shakespeare's The Taming of the Shrew. More info

Other fiction set in late medieval and Renaissance Italy:
A Tabernacle for the Sun by Linda Proud (2005). Review More info
Prince of Foxes by Samuel Shellabarger (1947). More info
In the Company of the Courtesan by Sarah Dunant (2006). More info
The Mosaic Crimes by Giulio Leoni (2007; also titled The Third Heaven Conspiracy), #1 in the Dante Alighieri mystery series. More info

Works by Dante Alighieri:
The Divine Comedy, Dante's masterwork. More info
La Vita Nuova, Dante's tribute to his beloved Beatrice. More info

Nonfiction about the Renaissance:
Shakespeare's Italian Settings and Plays by Murray J. Levith. More info
Humanism and the Culture of Renaissance Europe by Charles Nauert.
More info

Online:
Wikipedia article on The Italian Renaissance

The World of Dante



Back to Medieval: 14th and 15th Centuries

Back to Directory of Book Reviews