The Mask of Apollo

by Mary Renault

Reviewed by David Maclaine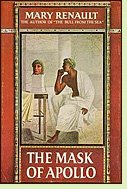 Whenever I reread The Mask of Apollo I am so swept away I have trouble remembering why I named one of Mary Renault's other books as her best. This time I had intended just to glance over it, to remind myself where the political side of the story fits into the history of Syracuse, which I had been reading about in Manfredi's Tyrant. I confirmed that Renault's main story begins during the final years of the great tyrant Dionysius' life, and then treats in detail the years following the succession of his son, Dionysius the Second. Her account of the growing tensions between the hapless heir and his brother-in-law and rival Dion was engaging, but what really lured me back into a full rereading was a side of the book that had receded in my memory, the story of how Plato became entangled in the attempt to make a good man and good king of the spoiled heir to Syracuse. For those of us who know and love both Plato's dialogues and the great Greek tragedies, The Mask of Apollo is a hard book to put down.
Renault's novel offers keenly drawn portraits of men struggling to live up to their own values and to find a way of applying those values in an imperfect world. What gives the novel real magic, though, is its brilliant recreation of the world of Greek drama as seen from the inside by the actor who narrates the tale. I can't read any of the great tragedies now without noticing how an actor's roles would have divided, so that a single performer could portray first, say, a stern king, and then, switching masks and costumes, a tormented woman. The Mask of Apollo is not just one of the best novels ever written about the ancient world, it's also one of the best of a genre beloved by theater fans which shows in rich detail how life is spent onstage and behind the scenes. (1966, most editions 371-384 pages)
More about The Mask of Apollo at Powell's Books
,
Amazon.com
or
The Book Depository
The Mask of Apollo
appears on the list of
The 36 Best Historical Novels for a Survey of Ancient Greek History
Other novels set in Syracuse:
The Sand-Reckoner
by Gillian Bradshaw (2000), about Archimedes of Syracuse. See
review
or
more info at Powell's Books
The Arrows of Hercules
by L. Sprague de Camp (1965), about an engineer in the fourth century B.C. who invents an improved catapult and becomes involved in the war between Syracuse and Carthage. See
review
or
more info at Amazon.com
Tyrant
by Valerio Massimo Manfredi (2003), about Dionysius I. See
review
or
more info at Powell's Books
.
Nonfiction about the history of Sicily:
Sicily: Three Thousand Years of Human History
by Sandra Benjamin (2006).
More info
Sicily: An Illustrated History
by Joseph F. Privitera (2002).
More info
A History of Sicily
by M.I. Finley, Denis Mack Smith and Christopher Duggan (1987).
More info
Online:
The Sword of Damocles
, a tale by Cicero about Dionysius II.
Back to Novels of Ancient History
Back to Directory of Book Reviews