Mary Fahnestock-Thomas Interview
February 20, 2010
HistoricalNovels.info interviews the editor of
Georgette Heyer: A Critical Retrospective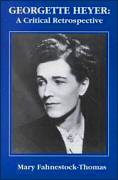 Alas, Georgette Heyer is no longer around to give interviews, but we were lucky enough to have Mary Fahnestock-Thomas visit the blog on February 20, 2010, instead. She's the editor of Georgette Heyer: A Critical Retrospective, a collection including some of Heyer's short stories; reviews going back to 1921 when Heyer's first novel, The Black Moth, appeared; obituaries; and articles about Heyer's work.

How did you come to edit Georgette Heyer:
A Critical Retrospective?
I searched out this collection of material in gratitude to Heyer for repeatedly restoring my sense of humor while I finished up my Ph.D. I was fortunate to find someone on the Georgette Heyer listserve who wanted to publish it, and although copyright fees prevented us from including perhaps a third of the reviews I had found, my publisher made a careful and informed selection, and apparently the book has been useful and brought pleasure to many Heyer fans. It is still available through Amazon.com
.

How did you first discover Heyer's novels?
I was in my mid-thirties and home with my parents for New Year's after many years of adventuring through life in the U.S. and abroad. It was not a particularly happy time, partly because push was coming to shove and I really had to finish my dissertation. My mother, who read widely in many fields but repeatedly returned to Georgette Heyer, had for years been suggesting that I try her, but my field was Literature and I wasn't a bit interested in romances. That New Year's Eve I headed for bed at about 10:30 in low spirits and just picked up The Nonesuch because it was there. I ended up staying up all night reading and laughing out loud, neither of which was at all common for me in those days.

Do you have a favorite?
It tends to be whichever one I am reading at the time, though I have a particular fondness for The Nonesuch as my first, The Reluctant Widow as the one I read while pacing the hospital corridors to hasten the arrival of my daughter 23 years ago, Friday's Child because it seems "complete to a shade," Cotillion because of Freddie Standen, Venetia for the relationship between the main characters and the Shakespeare quotes, and The Grand Sophy for, well, I suppose strength of character. Because character and conversation are more important to me than persuasiveness of plot, I also very much enjoy her mysteries; her four contemporary novels I think very interesting for character, especially considering how young Heyer was when she wrote them; her histories and more swashbuckling adventures I generally steer away from, but I do have them in my collection; and I remember The Black Moth in particular having a lovely flavor of The Scarlet Pimpernel.