Marina Fiorato Interview
March 31, 2010
HistoricalNovels.info interviews
the author of The Botticelli Secret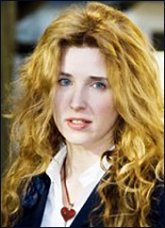 Marina Fiorato, author of the quirky romantic thriller The Botticelli Secret, visited the blog on March 31, 2010. Her novel, set in Renaissance Italy, is about a spunky prostitute with a mysterious past whose impulsive decision to steal a sketch when she models for Botticelli puts her life in deadly danger.

Does your Venetian ancestry serve as an inspiration for your novels?
Certainly. I wrote my first novel The Glass-blower of Murano when I was on maternity leave having just had my son. I think when
you have a child you ask yourself all sorts of questions about your heritage, where you come from, what you're handing on.
I'd also lived in Venice for a while when I was a student and it was great to revisit those times; like my heroine Leonora I made the city my home and loved it. I also stuffed The Glassblower with family names! In my latest novel, The Botticelli Secret, my heroine Chi-chi is held in Venice against her will and finds it a very alien and hostile place, despite its obvious enchantments. It's been interesting to write about my favourite city from two such different perspectives; I think I'll always return the Veneto, there's so much to say.

Your previous heroines in The Glassblower of Murano and The Madonna of the Almonds have been a bit more - ahem! - sedate than Chi-Chi. What gave you the idea to write about such an irreverent and lusty bawd?
I took everything from the painting. The figure of Flora in the Primavera (for whom Chi-chi is the model) has an expression that captivated my imagination - it's so modern, so...well...cheeky! She has such a different physiognomy to the milk-white maidens around her that I began to ask myself what if she wasn't a good girl, but a bad girl, the baddest girl of all, a whore. After that her character was established - I made her greedy, venal, earthy and sluttish, to emphasize the differences in language and ideology with her foil, Brother Guido. She was enormous fun to write and I miss her already. I have a feeling she'll be back, perhaps in another mystery!

In your novel, Botticelli's painting The Primavera contains a coded message. Does he use symbolic figures in any of his other paintings?
There's an interesting theory that the figures in The Birth of Venus bear a close relationship to the ones in the Primavera. The notion is that the two paintings can be considered in conjunction, and that four figures, three females and a male in each group, appear three times.
There's also a hypothesis that Botticelli's painting The Mystical Nativity conceals numerous clues to the influences of the radical Dominican Friar Girolamo Savonarola. I find the language of painting intriguing so perhaps I'll explore other artworks in the future!



---


Review of The Botticelli Secret by Marina Fiorato
See listing for The Botticelli Secret at Powell's Books
See listing for The Botticelli Secret at Amazon.com