The Many Lives & Secret Sorrows of Josephine B.
by Sandra Gulland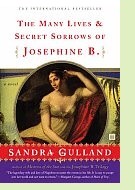 The Many Lives & Secret Sorrows of Josephine B. is the first book in a trilogy about Napoleon's Empress, written in the form of a diary kept by Josephine – or Rose, as she was called before her life with Napoleon. For readers unaware that she grew up on the Caribbean island of Martinique, this novel offers an intriguing perspective on her life and personality.
Fourteen-year-old Rose, worried over being still unmarried, consults a voodoo priestess. "I was surprised how small the old woman was.... Her loose black skin hung from her neck. She held a shell bowl in one hand – pigs' knuckles and coconut, it looked like – and was eating it with her fingers. She threw a bone to the puppy to finish. The old woman and Mimi began talking in the African tongue. I looked back over my shoulder. Manette was standing by a calabash tree, watching. A crow called out warning sounds. Mimi touched my arm. 'She says your future is all around you.'"
Gulland's Josephine is no slut. When after years of tolerating her first husband's neglect she succumbs to an affair, she does more than hold readers' sympathy; she touches our hearts. 1995, 436 pages.
More info on The Many Lives & Secret Sorrows from Powell's Books
Sequels:

Tales of Passion, Tales of Woe (#2 in the trilogy) More info
The Last Great Dance on Earth (#3 in the trilogy) More info


Love Letters:
The 50 Greatest Love Letters of All Time by David H. Lowenherz (2005), includes a letter from Napoleon to Josephine. More info

Other Historical Novels About Josephine:
The Secret Life of Josephine: Napoleon's Bird of Paradise by Carolly Erickson; a lustier, more romantic view of Josephine More info

The Emperor's Lady by Frank Kenyon, published in 1952

The Roses of Malmaison: The Turbulent Life of the Beautiful Josephine by Gaby von Schönthan, published in 1968


Nonfiction About Josephine:
Josephine: The Empress and Her Children by Nina C. Epton More info
Empress Josephine by Ernest John Knapton More info



Back to Novels of the Napoleonic Era

Back to Directory of Book Reviews