Madame Serpent

by Jean Plaidy

Reviewed by Margaret Donsbach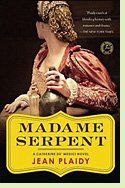 First in a trilogy about Catherine de Medici, Madame Serpent briefly covers Catherine's childhood and then focuses on the years of her marriage to Henry, Duke of Orleans, later King Henry II of France. The wars and religious controversies of the period are backdrops to Catherine's personal story and her transformation from vulnerable child to scheming woman. A harsh upbringing impresses upon her the need to control her emotions. Forced into a political marriage at age fourteen by her uncle, Pope Clement VII, she found a warm welcome from her father-in-law, King Francis I, but not from her young husband. Throughout Henry's life, his much-older mistress, the famously beautiful Diane de Poitiers, publicly assumed first place in his affections.
Plaidy holds readers' sympathy for Catherine by portraying the almost inhuman cruelties she suffered as a child and the humiliations heaped upon her by the husband whose affection she craved and the rival, Diane, who delighted in assuming the role of de facto queen. If Catherine's abiding love for Henry despite his emotional cruelty to her requires some suspension of disbelief, her growing hatred for Diane does not. And if Catherine's rapid transformation into a woman who "does not weep" but "makes plans" is often chilling, she remains fascinating in her refusal to crumble or to allow herself to be crushed. The plot moves steadily forward. Readers bored by excursions into political affairs will be glad to find them absent here, except for occasional brief passages directly pertinent to Catherine's emotional life. There is genuine history here, but it is a history of individuals rather than of nations.
The great appeal of Madame Serpent is its captivating tale of a glitteringly wealthy woman of status and eventually power who is impossible to envy. The story offers a lesson, as well, in the ripples of harm that may spread outward from cruelties practiced upon the weak - who do not alway stay weak. (1951; 387 pages in 2012 Touchstone edition)
More about Madame Serpent at Powell's Books
,
Amazon.com
or
The Book Depository
Other novels about Catherine de Medici:
The Confessions of Catherine de Medici
by C.W. Gortner, (2010), a novel which delves more deeply into the political issues Catherine dealt with as queen. See
review
or
more info at Powell's Books
The Devil's Queen
by Jeanne Kalogridis (2010), a version of Catherine's life which emphasizes the supernatural. See
review
or
more info at Powell's Books
Courtesan
by Diane Haeger, (1993), about Diane de Poitiers, Henri II's mistress.
More info
Nonfiction about Catherine de Medici:
Catherine de Medici
by Leonie Frieda (2003).
More info
Madame Catherine
by Irene Mahoney (1975).
More info
Catherine de' Medici
by Jean Heritier (1963).
More info
Online:
Catherine de' Medici
at Wikipedia
The Memoirs of Marguerite de Valois
, a daughter of Catherine, at Project Gutenberg
Back to Novels of the Renaissance
Back to Directory of Book Reviews