The Lute Player
by Norah Lofts
Reviewed by Margaret Donsbach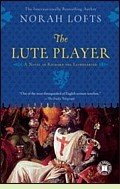 First published in 1951 by one of the most skilled historical novelists of her day, The Lute Player revolves around patterns of unrequited love among Berengaria of Navarre, Richard the Lionheart, Richard's sometime minstrel Blondel, and a fictional half-sister of Berengaria named Anna.
Much is known about the historical Richard, who became king of England in 1189 but spent most of his rule away from home, leading the Third Crusade in a vain attempt to wrest Jerusalem from Muslim rule. Little is known of his wife, the Spanish princess Berengaria, and less is known of Blondel, sometimes suspected of being entirely legendary, though musical compositions attributed to him survive.
The real star of this imaginative novel is the fictional Anna. Both Anna and Berengaria are deformed: illegitimate Anna permanently and hideously by the iron corset her mother wore to hide her pregnancy, supremely beautiful Berengaria by her mother's whim to achieve a sort of medieval Botox effect through "the Saracen habit of slitting the eyelids of girl babies in order to give them that doe-eyed, flowerlike look." Though Berengaria spends much of the novel in emotional distress, her tears flow from seemingly placid, untroubled eyes.
The Lute Player is filled with pithy observations about human nature, though some seem to stem more from the postwar era in which Lofts wrote than from medieval Europe: "There is something pervasive and absorbent about a company of women. They receive, they smother, they infect with their own softness." Despite this, Anna is a sharply witty, fascinating character, as critical of herself as of others, not squishy in the least. Her deformity frees her of the need to be feminine, and it is she who sets the plot in motion, shrewdly planting notions in the minds of more seemingly powerful characters, cleverly pulling a thread here and tying off a string there, until she looks back astonished at the events she has set in motion. (1951; new Touchstone edition 2009, 572 pages)
More about The Lute Player at Powell's Books or Amazon.com

Other novels about Berengaria and Richard the Lionheart:
Queen Without a Country by Rachel Bard (2000). More info
The Heart of the Lion by Jean Plaidy (1977). More info
The Talisman by Sir Walter Scott (1825). More info

Nonfiction about Blondel, Berengaria and Richard the Lionheart:
The Troubadour's Song: The Capture and Ransom of Richard the Lionheart by David Boyle (2005), makes a case for Blondel being instrumental in Richard's ransom from captivity in Dürnstein Castle. More info
Berengaria: In Search of Richard the Lionheart's Queen by Ann Trindade (1999). More info

CD albums including songs by Blondel de Nesle:
Under the Greenwood Tree
by Estampie, the Munich Early Music Ensemble; includes songs by Richard the Lionheart and Blondel
The Marriage of Heaven and Hell
by Gothic Voices
Heu Fortuna
by Ensemble La Rota

Online:
Wikipedia article on Blondel de Nesle
A brief biography with links to translations of letters written by Berengaria at the Columbia University website Epistolae: Medieval Women's Letters



Back to Medieval: Angevins

Back to Directory of Book Reviews