The Lost Garden
by Helen Humphreys
Reviewed by Margaret Donsbach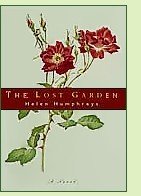 Set in 1941 England, The Lost Garden is narrated by a woman who has been studying plant diseases while London is bombed into rubble around her. She sets her research aside to direct a team of Women's Land Army volunteers assigned to grow potatoes on a neglected estate in the Devon countryside.
Gwen Davis is thirty-five, single and unattractive. Her mother has recently died. Her research project is dying. "For months now I had been meticulously observing parsnip canker.... But I could not bridge the chasm between my long row of parsnips in the laboratory, all in various stages of fetid death, and the remedy that might exist for all this rotted vegetable flesh on the opposite shore of science."
She arrives in Devon to find her much younger charges have unexpectedly arrived before her. Instead of planting potatoes, the girls have been visiting the Canadian soldiers posted on another part of the estate while waiting for an assignment in the war zone. Gwen's anxious remonstrations seem only to make the girls more resentful and resistant. So when she discovers a weed-choked secret garden, it's a welcome solace. Who created it? What message was the small array of thoughtfully chosen plants meant to convey?
The Lost Garden is a slender novel, as reserved yet full of depth as its narrator and, like its narrator, a bit oddly fixated on Virginia Woolf in passages that are not quite integrated with the rest of the story. The language is precise and careful, occasionally breaking into stretches of lyric yearning, most notably when Gwen enters the garden. "I feel something that at first I'm sure is fear. But no, that's not it. What I feel is a kind of unreality. I am a ghost. I have wandered back in time, or forward, and I have disturbed this sleeping place with my presence." (2002, 182 pages)
More about The Lost Garden from Powell's Books

Other historical novels about gardens:
The Samurai's Garden by Gail Tsukiyama (1996), set during the Japanese invasion of China in the late 1930s. More info
The Gentleman's Garden by Catherine Jinks (2005), set in nineteenth century New South Wales, Australia. See Review. More info from Powell's Books
Gardener to the King by Frederic Richaud (2000), set in the Versailles of Louis XIV. More info

Nonfiction about the Women's Land Army and about Ellen Willmott, Gwen Davis's favorite garden writer:
They Fought in the Fields by Nicola Tyrer (1996), about the Women's Land Army. More info
The Women's Land Army, 1939-1950 by Bob Powell and Nigel Westacott (1997), a collection of old photographs of the Women's Land Army. More info
Miss Willmott of Warley Place: Her Life and Her Gardens by Audrey Le Lievre (1980). More info

Online:
BBC article about The Women's Land Army in Britain



Back to Novels of World War II

Back to Directory of Book Reviews