Longbourn
by Jo Baker

Reviewed by Annis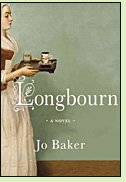 Sweeping away the cobwebs and rattling the skeletons in Longbourn's closet, Baker turns Pride and Prejudice upside down by giving centre stage to those barely acknowledged "ghostly presences" whose lives are inextricably entwined with the famous Bennet family: their hardworking household servants.
"There could be no wearing of clothes without their laundering, just as surely as there could be no going without clothes, not in Hertfordshire anyway, and not in September". Long before dawn, while the Bennet daughters lie tucked up in their beds "dreaming of whatever it was young ladies dream", Sarah is out in the "icy starlight" drawing water for the arduous weekly wash.
This is the day when the new footman arrives, stirring things up; a mysterious, self-contained young man called James, to whom Sarah is unwillingly drawn. He joins Longbourn's staff, a close-knit, self-made "family" of four - the two maids, bright, stubborn Sarah and little Polly, Mr Hill the butler and Mrs Hill, housekeeper and tender-hearted domestic tyrant. Meanwhile, life upstairs is galvanized by the forthcoming visit to nearby Netherfield Park of two wealthy, unattached young gentlemen, Messrs. Bingley and Darcy…
Written with delectable irony and a keen eye for detail, this poignant "downstairs" love story is no trite Regency-style romance. Through the parallel lives of its vividly realized characters, we become aware of not only the ambiguous relationship between master and servant but also the world outside the gilded milieu of the Georgian gentry, whose concerns seem trivial set against the harsh realities of war, poverty, the slave trade, and the sort of loss and hardship the Bennet servants have all experienced at some time. They know they are fortunate to have settled positions, but it's a fragile security. They own nothing and live "entirely at the mercy of other people's whims and fancies".  Subverting pastiche cliché with its bold shift of perspective, Longbourn offers an Austenian tribute of welcome depth and originality. (2013, 352 pages)
More about Longbourn at Powell's Books
,
Amazon.com
or
The Book Depository
A novel mentioned in Longbourn as best kept "for private contemplation":
Pamela: Or Virtue Rewarded
by Samuel Richardson (1740), about a young female servant pursued by her ruthless employer; a literary sensation condemned as immoral when first published.
More info
Other novels borrowing characters from Pride and Prejudice:
Death Comes to Pemberley
by P.D. James (2011), a murder mystery written in the style of Austen and set at Pemberley.
More info
The Independence of Miss Mary Bennet
by Colleen McCullough (2008), set twenty years after the close of
Pride and Prejudice
, when Mrs. Bennet's death frees her daughter Mary to pursue her own interests. See
review
or
more info at Powell's Books
The Ladies of Longbourn
by Rebecca Ann Collins (2008).
More info
Nonfiction about servants and customs during Austen's time:
Behind Closed Doors: At Home in Georgian England
by Amanda Vickery (2010).
More info
Keeping Their Places: Domestic Servants in the Country House, 1700-1920
by Pamela Sambrook (2005). A collection of true stories told by domestic servants themselves.
More info
The Complete Servant
by Sarah and Samuel Adams (1825).
More info
Online:
Domestic Servants, Part 1: Women
and
Part 2: Men
at the Life Takes Lemons history blog.
Back to Novels of Nineteenth-Century Europe
Back to Directory of Book Reviews