Lois Leveen Interview

December 22, 2012

HistoricalNovels.info interviews the
author of The Secrets of Mary Bowser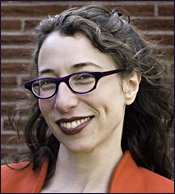 Lois Leveen, author of
The Secrets of Mary Bowser
, about a freed slave who spied for the Union, visited the blog December 22, 2012, to talk about her novel. Welcome, Lois!
So much more is documented about Bet Van Lew, the white woman who freed Mary Bowser, than about Mary herself. Were you able to read between the lines of what is known about Bet to discover more about Mary?
Information about Bet and her family helped a lot. For example, I found old photographs and insurance records of the Van Lew house, which was torn down. Those kind of resources helped me imagine Mary's world, but I also drew on nineteenth-century slave narratives, letters, and speeches, as well as studies by historians. So Mary as she appears in the novel is inspired by the lives of many girls and women (and men) who lived under slavery and also many free blacks who lived in the antebellum period. I then played the Mary I created against what is known about Bet, who was quite a character in real life. The most unbelievable elements of the novel - like digging up a dead body and reburying it because the first burial wasn't "respectful" enough - are things Bet really did. I loved imagining how a slave turned spy would view someone who behaved like that.
While researching your novel, did you discover anything new about Mary?
Reading Elizabeth Varon's biography of Bet after writing the first draft of my manuscript, I learned that some things I'd invented really happened. I also learned things about Mary's life that I knew just wouldn't work in a novel. So I gave myself permission to be a novelist, not a biographer. But because I really care about making people aware of Bowser's contribution to American history, I've continued my research even after the novel was published. In the past few months, I've discovered several new documents historians never knew existed, including the only two physical descriptions of Mary - which completely contradict each other! So Mary's still keeping secrets.
As an author, you must have imagined yourself in Mary's shoes (or bare feet) as you wrote. Was this ever hard for you?
Mistress Van Lew would remind you that her slaves NEVER went barefoot; she says this in the novel to claim she's a "good" slaveowner. I've never been enslaved, never lived in Richmond or Philadelphia, etc. But writers have to imagine beyond their experience all the time. Although that's always a challenge, my affinity for Mary and my training in African-American studies made it easier for me to imagine her perspective than that of Thomas McNiven or Varina Davis, though I hope I did them justice, too.
---
Review of The Secrets of Mary Bowser by Lois Leveen
See listing for The Secrets of Mary Bowser at Powell's Books
See listing for The Secrets of Mary Bowser at Amazon.com
Back to Directory of Author Interviews