The Lion of Cairo
by Scott Oden
Reviewed by Annis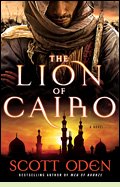 Inspired by tales from the pulp-fiction era, The Lion of Cairo is a dark, fast-paced adventure set in the Middle East between the Second and Third Crusades. Bloodstained swords and sorcery abound in the exploits of Assad the Assassin, deadly master of disguise. Bonded to an ancient, demon-haunted salawar, he is a shadowy figure named only in whispers as the "Emir of the Knife". Both man and blade burn with a vengeful desire to spill the infidel blood of Outremer's Frankish Crusaders and their accursed Templar knights.
From high in his mountain stronghold of Alamut, the Hidden Master of the Assassins has sent Assad, his right-hand man, on many lethal missions. Now he charges Assad with an unusual new assignment: to protect and keep alive the young caliph of Cairo, uphold his rule, and broker an alliance between Cairo and Alamut: easier by far to just kill a man.
Cairo is vulnerable, trapped between the ambitions of Amalric, the Christian king of Jerusalem, and Nur-ad-Din, Sultan of Damascus. As their armies converge on the city, one led by Amalric himself, the other by Nur-ad-Din's Kurdish general, Cairo's treacherous grand vizier treats with the Templars behind the caliph's back and schemes to usurp his throne. Assad is fast running out of time. His allies murdered by the agents of a renegade Assassin necromancer, he has only his cunning, a soul-hungry sword and a trio of resourceful women to help him. His task seems impossible.
From sumptuous palace to rat-infested alley, Oden vividly recreates the sights, sounds, and scents of exotic, dangerous twelfth-century Cairo, melting pot of the Fatimid Caliphate. With its moody atmosphere and enigmatic, predatory hero, The Lion of Cairo captures admirably the spirit of sword-and-sorcery. A fresh new interpretation of an old genre, it is a worthy successor to the work of early pulp-masters like Harold Lamb and Robert E Howard. (2010; 416 pages)
More about The Lion of Cairo at Powell's Books or Amazon.com
Interview with author Scott Oden

Other novels featuring the Assassins of Alamut:
Assassins of the Alamut by James Boschert (2010). More info
Alamut by Judith Tarr (1989). More info
Alamut by Vladimir Bartol (1939). Review or More info at Powell's Books

Nonfiction about the Assassins:
The Secret Order of Assassins: The Struggle of the Early Nizari Ismai'lis Against the Islamic World by Marshall G.S. Hodgson (2005). More info
The Templars and the Assassins: The Militia of Heaven by James Wasserman (2001). More info
Assassin Legends: Myths of the Isma'ilis by Farhad Daftary (1994). More info

For Gamers:
Assassin's Creed
, a video game set during the Third Crusade in 1191, which allows a gamer to play the role of an Assassin.

Online:
Introduction to the Assassin Legends by Dr. Farhad Daftary at The Institute of Ismaili Studies website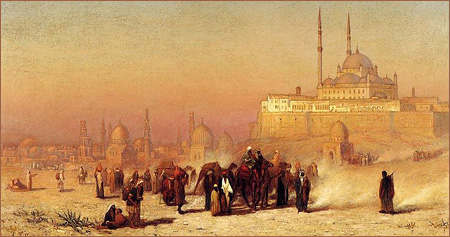 Back to Novels of the Middle East

Back to Directory of Book Reviews