Lindsey Davis Interview
January 27, 2010
HistoricalNovels.info interviews
the author of Rebels and Traitors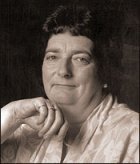 It was great to have Lindsey Davis visit the blog on January 27, 2010, to talk about her novel of the English Civil War, Rebels and Traitors.

After writing so extensively about Roman Britain in your mysteries, what made you choose to write about the English Civil War?
Actually I always wanted to write about the Civil War but changed to the Romans years ago to try and woo publishers. So for me this was the book I had always wanted to write - and I really enjoyed doing it too. I am very much intrigued by the important ideas that were under debate, and for a novelist a period of conflict is rewarding to write about because it automatically throws up characters with different opinions and attitudes - plus there is a dramatic sequence of real events to frame your story.

This war was a traumatic experience for the English, from the royal family right down to the street urchins. Do you think England still bears scars from it?
Well, in some ways we do have physical scars - ruined castles and such that were never rebuilt. There are still many people who 'support' one side or the other; in fact, although it seems unbelievable, I had a slight problem with readers saying they were nervous about reading a book that might take the opposite point of view from theirs. Politically, the Civil War led eventually to democratic changes, from which I would say we still benefit. Self-determination certainly became a right for the body of the population from then on, and you wouldn't say that was a scar.

Do you see parallels between the English Civil War and the American Revolution, which followed a century later?
I see a direct line from the English Civil War to both the French and American Revolutions. ('We hold these truths to be self-evident' is a quotation from the English radicals.) An aspect I didn't have space to explore in what was anyway a very long book was the intricate relationship between England and the New World at the time. People hoping for a better life with freedom of conscience had gone from England to America - and many came back during the War to take part in the fight for freedom here. After the English Commonwealth failed and the monarchy was restored, many must have sought refuge from their disappointment in America, taking with them once again the idea that individuals should have a voice in their government and not just serve to be plundered via taxation!


---


Review of Rebels and Traitors by Lindsey Davis
See listing for Rebels and Traitors at Powell's Books
See listing for Rebels and Traitors at Amazon.com