Lily of the Nile
by Stephanie Dray
Reviewed by Margaret Donsbach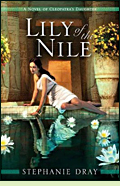 With its scenes of sacred feminine magic, Lily of the Nile is likely to charm readers interested in pagan mysticism, provided they can be patient with a wordy, overlong narrative. Little is known about Selene, the daughter of Cleopatra and Mark Antony, so she is fair game for the novelist's imagination. At age nine, after the deaths of her parents following their defeat at Actium, Selene was brought to Rome, displayed in golden chains in Emperor Augustus's triumph, and then raised in his household by his sister Octavia, Mark Antony's Roman wife.
In the novel, Cleopatra passes certain magical powers on to Selene before dying and tells her always to serve and worship the goddess Isis. "Be charitable to the poor and the sick. Help the helpless and those in need. Be kind when you can and fierce when you must." In Rome, the Isiac religion appealed to the poor and enslaved, much as Christianity would later. The novel opens with a tantalizing historical detail: Selene and her twin brother were born on December 25, "the Feast of the Nativity of Horus," in 40 B.C.
In Rome, Selene is both frightened and comforted by a remarkable manifestation: "my arm was covered in tiny bloodred heiroglyphics ... cut into my skin ..." They are messages from Isis for Selene, Augustus and Rome. The most interesting and convincing scenes in Lily of the Nile are those of sacred supernatural phenomena like these. When she is not embodying the goddess Isis, Selene's thoughts and emotions are described so exhaustively that it might be easier for readers to share them if we read less about them. Portraying Selene's life as a mostly powerless child in the emperor's household until her early teens when her marriage is arranged, the narrative often lacks depth and momentum.
This is a debut novel by an author with promise. A sequel about Selene's life as Queen of Mauretania may be more consistently engaging. (2011; 351 pages, including an Author's Note on the history behind the story and Discussion Questions)
More about Lily of the Nile at Powell's Books or Amazon.com
Interview with author Stephanie Dray

Other novels featuring Selene:
Cleopatra's Daughter by Michelle Moran (2001). More info
Cleopatra's Daughter by Andrea Ashton (1979). More info
The Legate's Daughter by Wallace Breem (1974), a thriller in which Selene is a secondary character. More info

Nonfiction about Selene, Cleopatra and the worship of Isis:
The World of Juba II and Kleopatra Selene by Duane W. Roller (2003). More info
Cleopatra: A Life by Stacy Schiff (2010). More info
Isis in the Ancient World by R.E. Witt (1997). More info

Online:
Isis: The Divine Mother at the Wabash College website



Back to Novels of Ancient History

Back to Directory of Book Reviews