Life After Life

by Kate Atkinson

Reviewed by Margaret Donsbach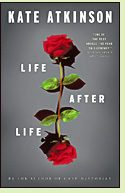 Life After Life asks: What if we could keep reliving the same life, making fresh choices at each of the turning points where our previous choices ended in disaster? The stakes are not small, even in a life like Ursula's that seems very ordinary: in the first, short chapter, she has the opportunity to assassinate Hitler, so readers know that at least one of the trajectories of her life will take her to that moment. Then we are in the semirural English home where she dies at birth on the snowy day of February 11, 1910, strangled by her umbilical cord. It's a testament to Atkinson's writing ability and the clever structure of this unusual story that no suspense is lost by bringing readers repeatedly back to Ursula's birth to show the different circumstances and choices that save her life and later end it prematurely. On the contrary, Ursula is such an engaging child and woman that the suspense is all the stronger. We want to find out what she does with these second chances, prompted by subconscious dread and a sense of deja vu. They don't always work out.
The question at the novel's heart is both larger and more personal than it looks. We all have regrets of one kind or another when we look backward, whether for reckless acts that brought disaster or for conventional choices that led to quiet desperation. Would different choices have made us happier? We wonder about chance meetings - or missed meetings - that changed our lives: what if we had met a certain person much earlier in life, much later in life, or not at all? What if someone had assassinated Hitler? Would the Holocaust and World War II have been averted? Atkinson is too good a writer to supply easy answers. Life After Life is a captivating, thought-provoking novel that will linger long in readers' memories. (2013, 529 pages)
More about Life After Life at Powell's Books
,
Amazon.com
or
The Book Depository
Another historical novel about someone who lives the same life many times:
The First Fifteen Lives of Harry August
by Claire North (2014), about a man born in 1919 who, in his eleventh life, learns about an approaching catastrophe.
More info
Other historical novels for adults about children:
Stones from the River
by Ursula Hegi (1994), about a girl dwarf growing up in Nazi Germany.
More info
Alice I Have Been
by Melanie Benjamin (2010), a biographical novel about Alice Liddell, the real girl who inspired Lewis Carroll's
Alice in Wonderland
.
More info
Ruan
by Bryher, (1960), about a boy in sixth century Cornwall who runs away to become a sailor. See
review
or
more info at Amazon.com
Nonfiction about plots to assassinate Hitler:
Killing Hitler: The Plots, the Assassins, and the Dictator Who Cheated Death
by Roger Moorhouse (2006).
More info
Countdown to Valkyrie: The July Plot to Assassinate Hitler
by Nigel Jones (2009).
More info
Stauffenberg
by Peter Hoffman (1995), a biography of Claus von Stauffenberg, a Nazi officer who plotted to assassinate Hitler.
More info
At the Movies:
Valkyrie
, a 2008 movie starring Tom Cruise as Colonel Claus von Stauffenberg, a Nazi officer who plotted to assassinate Hitler.
Online:
Assassination Attempts on Adolf Hitler
, a list at Wikipedia
Back to 20th Century Prewar Europe

Back to Directory of Book Reviews