The Leopard and the Cliff
by Wallace Breem
Reviewed by Annis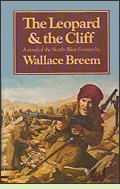 Powerful and moving, The Leopard and the Cliff celebrates the virtues of honour, duty and sacrifice in the story of an unlikely hero, an unprepossessing man who faces the challenge of sudden disaster by stepping squarely up to the mark when called upon.
Seen by his superiors in the British Indian Army as lacking leadership skills, Major Charles Sandeman is regularly passed over for promotion. Discounting his own quiet strengths, he regards himself as a failure. Now middle-aged, he's found a comfortable niche at a remote outpost on the Northwest Frontier with the Frontier Scouts - British-trained and led native paramilitary units.
When war breaks out without warning between India and Afghanistan in 1919, Sandeman is caught, as the locals say, "between the leopard and the cliff". The volatile border tribes rise up against British rule, and many of the Scouts mutiny. Sandeman finds himself by default commander and in charge of leading the retreat of the remaining loyal Scouts to the nearest secure British fort some fifty miles away. So begins a nightmarish trek to safety through searingly hot, unforgiving terrain, running the gauntlet of fiercely hostile tribesmen all the way.
Full of action and suspense, The Leopard and the Cliff is vividly realized and superbly written in a restrained, understated style that reflects Sandeman's personality. It's a masterful psychological study of the complexities of cross-cultural interaction, the knife-edge balance of colonial allegiances and the nature of command. Although gripping, this is not an easy read; it's often brutal and heart-breaking, and as war is fought yet again in Afghanistan, exacerbated by the same deep cultural divide and conflicting tribal interests, its lessons shouldn't be ignored. As Sandeman finds, even longstanding mutual friendship can't necessarily outweigh the pull of jihad and tribal loyalties. However, the inspirational message that people can rise above themselves by putting others first and thereby succeed against seemingly insurmountable odds is one that transcends all barriers. (1978; new edition 2010 under the Faber Finds imprint; 288 pages including an Author's Note, map and glossary of Pashtu terminology)
More about The Leopard and the Cliff at The Book Depository or Amazon.com

Other novels about the British in Afghanistan:
The Mulberry Empire by Philip Hensher (2002), about a man involved in the events leading up to the 1839 British occupation of Afghanistan. See review or more info at Powell's Books
Flashman by George MacDonald Fraser (1969), about a British soldier in the First Anglo-Afghan War, 1839-42. More info
The Far Pavilions by M.M. Kaye (1978), about an English boy raised in India who falls in love with a half-caste Hindu princess during the Second Anglo-Afghan War, 1878-80. More info

Nonfiction about the British in Afghanistan:
Crisis on the Frontier: The Third Afghan War and the Campaign in Waziristan, 1919-1920 by Brian Robson (2007). More info
The Frontier Scouts by Charles Chevenix Trench (1986). More info
The Savage Border: The Story of the North-West Frontier by Jules Stewart (2007). More info

Online:
Profile of Wallace Breem, by Alan Fisk at italophiles.com



Back to Novels of Nineteenth-Century Europe and Europeans

Back to Directory of Book Reviews