The Legend of the Wandering King
by Laura Gallego García
Reviewed by Margaret Donsbach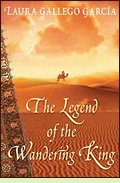 The Legend of the Wandering King was inspired by a real prince of ancient Arabia before Islam. Imru'l Qays was a prince and a poet, the son of King Hujr of Kinda. This small kingdom was formed from a group of Bedouin tribes in the late fifth century and collapsed after King Hujr was assassinated in the early sixth century. The people of ancient Arabia prized good poetry. Their poetry competitions might be compared to modern rock concerts: people came from miles around, gathering in crowds to listen to the poems recited aloud by the poets' assistants.
"Handsome of body and fair of soul, generous as a rush of water," seventeen-year-old Walid ibn Hujr, the magnificently educated prince of Kinda, yearns above all else to win the annual poetry competition in Ukaz. His father, fearing the kingdom's heir might be disgraced by losing, refuses to let Walid enter the Ukaz contest until he has proven himself the best poet in Kinda. So Walid organizes a local competition. Thus begins a remarkable saga - for it is not so easy to win even the local competition. A ragged boy appears to recite a qasida of "love and desolation," of a desert landscape "so alive and real" that the listeners could almost "smell the desert," of such "simplicity and sincerity" Walid fears his own poem will be overshadowed.
Jealousy is a terrible master. Before long, Walid is dogged by "a fate that pursued him implacably, reminding him of his guilt whenever he tried to forget it." How he faces up to this fate and gains an understanding of the mysteries of destiny is the surprising, beautiful, wise and mystical tale of The Legend of the Wandering King. Adults will enjoy it too. (English translation, 2005; 213 pages, including an Author's Note about the historical background and a Word List and Pronunciation Guide. Recommended for ages 12 and up.)
More about The Legend of the Wandering King at Amazon.com; also available in the original Spanish as La Leyenda del Rey Errante

Other YA novels set in the ancient Middle East:
To Ride the Gods' Own Stallion by Diane Wilson (2001), about a thirteen-year-old Assyrian boy whose father sells him as a slave to the royal household, where a remarkable horse changes his life. More info
Alphabet of Dreams by Susan Fletcher (2006), about a girl, her brother and one of the three magi seeking a newborn king whose birth was foretold by the stars. More info
The Garden by Elsie V. Aidinoff (2004), a retelling of the Biblical tale of Eve and the Serpent that questions the traditional interpretation. More info

Arabic poetry:
Traces of Song: Selections from Ancient Arabic Poetry translated by Mouneer al-Shaarani Walid Khazendar (2005), English translations of Arabic poems from the fifth through the ninth centuries. More info
Night and Horses and the Desert: An Anthology of Classical Arabic Literature, edited by Robert Irwin (2000), English translations of Arabic poetry from the fifth through the sixteenth centuries. More info
Oral Poetry and Narratives from Central Arabia: The Poetry of Ad-Dindan, A Bedouin Bard in Southern Najd translated by P. Marcel Kurpershoek (1994), English translations of the orally recited poetry of a present-day Bedouin poet whose work reflects ancient Arabian traditions. More info

Online:
Qasida Burda, a sung performance of an Islamic religious qasida at YouTube. Beautiful.



Back to Young Adult Novels of Ancient History

Back to Directory of Book Reviews