The Laughter of Aphrodite

by Peter Green

Reviewed by David Maclaine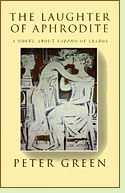 The Laughter of Aphrodite is a lovely novel on the life of Sappho as narrated by the poet herself late in her life. The author, Peter Green, was a successful classical scholar at Cambridge who wrote this novel while living in the Greek islands in the 1960s. The book is set in the decades just before and after 600 B.C. Its chief focus is the poet's personal connections with family, friends and lovers. At the end of the book Green provides a Geneological Table that's useful in untangling family relationships, and a helpful Chronological Table of Events; I wish I'd known they were there while I was still immersed in the story. Both are annotated to clarify which people and events are historical and which are fiction or guesswork. Also of great help are the three maps on the end papers.
Among the delights of The Laughter of Aphrodite are the author's loving descriptions of Sappho's home island of Lesbos. Only a few of Sappho's poems have survived, along with assorted fragments quoted by later writers, but what does remain shows a combination of lyrical beauty, keen description of the natural world, and an economy of allusion that packs great emotion into few words. Green's language has the same mixture of spare precision and beauty found in those poems, which makes the first-person voice both believable and a pleasure for eye and ear. He is faithful to what is known of the poet's life, and he fills in the blanks convincingly, providing a cast of finely observed characters. Chief among these is Sappho herself, who, looking back at her life in flashback, proves unsparing in her judgments on her own failings. The effect is what you might get if one of Jane Austen's heroines were a bisexual artist in a circle where the "better sort of people" sometimes apply peer pressure to take part in a political assassination. (1993, 274 pages)
More about The Laughter of Aphrodite at Powell's Books
,
Amazon.com
or
The Book Depository
The Laughter of Aphrodite
appears on the list of
The 36 Best Historical Novels for a Survey of Ancient Greek History
Other novels about Sappho and other ancient Greek poets:
Sappho's Leap
by Erica Jong (2003), about Sappho.
More info
The Praise Singer
by Mary Renault (1978), about the ancient Greek poet Simonides. See
review
or
more info at Powell's Books
Homer's Daughter
by Robert Graves (1955), about who the author of the
Odyssey
may have been if, as some scholars have speculated, she was a woman.
More info
Sappho's poetry and nonfiction about Sappho:
Stung with Love: Poems and Fragments
by Sappho, translated by Aaron Poochigian (2009 Dover edition).
More info
The Sappho Companion
by Margaret Reynolds (2002), about the changing image and influence of Sappho from ancient times to the present.
More info
Sappho Is Burning
by Page duBois (1995), about Sappho's poetry and the clues they contain to her life.
More info
Online:
The Divine Sappho
, a site devoted to Sappho with poems and biographical information, at ClassicPersuasion.org
Back to Novels of Ancient History
Back to Directory of Book Reviews