The Last Waltz
by G.G. Vandagriff
Reviewed by Margaret Donsbach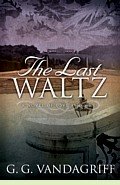 At nineteen, Amalia, the fictional Viennese heroine of The Last Waltz, feels an almost instinctive dread of war. In 1913, with most Austrians blissfully unaware of World War I looming on the horizon, her fiancé, a gifted German violinist, has been studying music in Vienna. Infected by the martial spirit rising in Germany, he announces his eagerness to follow in his Prussian father's footsteps and prove himself as a soldier.
Amalia's family, descended from aristocracy and eager to climb back up the social rungs, is intent on preserving standards of propriety and displays of wealth that are already becoming outmoded. But her beloved Uncle Lorenz, a socialist who lives in near-poverty so he can support his favorite humanitarian projects, has a gentler, yet stronger influence on her character.
Amalia hates her titled fiancé's obvious delight at the prospect of war, but the thought of breaking their engagement appalls her. He is not, however, her only admirer. A magnetic Polish doctor whose attraction to women comes second to his yearning for a free, democratic Poland, as well as a kind-hearted aristocratic friend of her Uncle Lorenz both take an interest in her, leading to numerous complications and wrenching dilemmas of the heart.
While the focus of The Last Waltz stays firmly on Amalia and her personal life, the two world wars have as searing an effect on her as they do on other Europeans of her time. The novel offers a perceptive and fascinating introduction to the politics of pre-WWII Austria, a setting that has been neglected amid the outpouring of novels about Nazi Germany. In many ways, the Austrian setting is far more interesting, as the artistic Viennese society gradually splinters into groups that cannot neatly be classified into pro-Nazi or anti-Nazi. The dissention within Austria paves the way for a German takeover and Amalia's dramatic, hair's-breadth escape attempt.
The Last Waltz is a good choice for readers looking for a moving, well-written love story without explicit sex. (2009, 591 pages)
More about The Last Waltz at Amazon.com
Interview with author G.G. Vandagriff

Other historical novels about love in wartime:
Gone With the Wind by Margaret Mitchell (1936); the classic tale of a Southern belle and the U.S. Civil War. More info
Push Not the River by James Conroy Martin (2004); about a Polish countess during Poland's struggle for independence and a democratic constitution. More info
The English Patient by Michael Ondaatje (1992); about a tragic love affair during World War II. More info

Nonfiction about Austria from 1913 to 1938:
Thunder at Twilight: Vienna, 1913/1914 by Frederic Morton (1989), about Vienna on the eve of WWI.
More info
A Nervous Splendor: Vienna, 1888/1889 by Frederic Morton (1979), about the double suicide of Crown Prince Rudolf and his mistress, an event echoed in the backstory of The Last Waltz. More info
Vienna, 1890-1920 by R. Waissenberger (1984), a pictorial history of Vienna's "Golden Age." More info
Red Vienna: Experiment in Working-Class Culture, 1919-1934 by Helmut Gruber (1991), about socialism in Vienna between the wars. More info

Online:
Brief History of Vienna at Virtual Vienna



Back to Novels of 20th Century Prewar Europe

Back to Directory of Book Reviews