The Last Prince of the Mexican Empire
by C.M. Mayo
Reviewed by Margaret Donsbach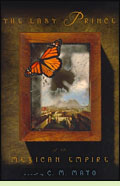 The Last Prince of the Mexican Empire is less about the infant prince than about the misguided 1864-1867 reign of Maximilian von Habsburg and his wife Carlota as Emperor and Empress of Mexico. The central characters are the prince's father, Angel de Iturbide, the son of an earlier emperor, and his mother, the American belle Alice Green whom Angel meets and marries while living in exile in Washington D.C. Exiled again shortly after their return to Mexico, the Iturbides give up their two-year-old son to the childless Maximilian and Carlota, an act they promptly regret.
This thoroughly researched novel explores the ironies of Maximilian's reign from the perspectives of some twenty characters, men and women of modest abilities who, up and down the social scale, are excessively impressed with their status and supposed indispensability. The dithering Maximilian, more interested in exotic geographical exploration and building his palatial hideaway in Italy than in governing, is tortured by the requirement that, to become Emperor of Mexico, he must give up his place in the Habsburg succession. Doting mother Alicia is temporarily dazzled by her importance as the wife of the former emperor's son and the rounds of parties requiring mantillas and new dresses. Maximilian's staff, brought from Europe, resent the Mexican climate and customs. Mexicans resent and plot against the Europeans. Even baby Agustín is a bit of a brat.
Mayo's insightful prose is stuffed with apt metaphors. Empress Carlota, in a mood of humiliation, "feels the way water feels when it is just about to run over the lip of its cup." The French military commander in Mexico, exasperated by Maximilian's inability to accept reality, recalls an Arab proverb, "water in a mirage is not water you can drink." Not for readers looking for a tightly constructed plot peopled by heroic characters, The Last Prince of the Mexican Empire will amply reward those looking for deft prose and a leisurely, wryly humorous exploration of this odd period in Mexican history. (2010; 430 pages, including a discussion of the author's research process and a selected bibliography)
More about The Last Prince of the Mexican Empire at Powell's Books or Amazon.com
Interview with author C.M. Mayo

Other novels set in Mexico:
Chapultepec by Norman Zollinger (1995), about an American woman and a soldier of the French Foreign Legion during the time of Emperor Maximilian and Empress Carlota. More info
Mexico by James A. Michener (1992), about a contemporary American journalist who travels to Mexico and is swept up in the story of his Mexican ancestors from pre-Columbian times through the twentieth century. More info
Book of Lamentations by Rosario Castellanos (1962), about a fictional rebellion in Mexico in 1930 that resembles historical rebellions in 1712 and 1868. More info

Nonfiction about the reign of Maximilian and Carlota:
The Crown of Mexico: Maximilian and his Empress Carlota by Joan Haslip (1971). More info
The Empress of Farewells: The Story of Charlotte, Empress of Mexico by Michael, Prince of Greece (2002). More info
Recollections of Mexico: The Last Ten Months of Maximilian's Empire by Samuel M. Basch (1868). More info

At the Movies:
Juarez
, the 1939 film about Maximilian and Carlota and the rebellion of Benito Juarez which topples their government, starring Bette Davis as Carlota; available in VHS format.

Online:
www.casaimperial.org, an admiring look at the Iturbide and Hapsburg rulers of Mexico



Back to Historical Novels of Latin America

Back to Directory of Book Reviews