The Last Nude
by Ellis Avery
Reviewed by Margaret Donsbach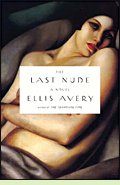 Tamara de Lempicka, whose paintings inspired The Last Nude, lived and worked in Paris during the 1920s. In those bohemian, nihilist years after the First World War, artists made a morality of their own out of sensuality, sensation and defiance of convention. There, after fleeing Bolshevik Russia, de Lempicka became famous for her lush, semi-cubist paintings of sultry women. Among the most striking was "La Belle Rafaela," a reclining nude with curves almost blindingly accentuated by strong light, deep shadow and a red drape.
Who was Rafaela? The Last Nude imagines her as a seventeen-year-old Italian-American expatriate. She escapes a forced marriage to find that her only route to survival, sometimes, is to sell her body to men who disgust her. When the magnificent and mysterious Tamara de Lempicka asks to paint her, Rafaela first treats the modeling as a job no less distasteful. Then she falls in love. "It was hard to speak with her thumbs upon my knees. The world fell apart behind my eyelids in sheets of apricot light and pale gold hair." As Rafaela makes the artist's career, the artist's attention gilds Rafaela with a heady blend of sophistication and renewed innocence in an expatriate community both cynical and adoring of its most gifted members.
Avery's writing style resembles de Lempicka's brushwork: meticulously observed, dramatically sensual, realistic and romantic at once. The plot twists continue into a chapters-long coda in which the voice of the aged artist, nearing her death in the 1980s, takes over from the young model's in 1920s Paris. The coda's revelations add depth and poignance, but at the price of a slow-paced, backward-looking finale that lacks the color and immediacy of the rest of the novel. This seems a petty complaint, though. The Last Nude delivers a sexy, romantic reading experience that illuminates not only a particular time and place but also the enduring problem of the human spirit, petty and sublime by turns. (2012; 310 pages, plus a "Further Reading" list)
More about The Last Nude at Powell's Books, Amazon.com
or The Book Depository

Other novels about creative people with bohemian lifestyles:
The Painted Kiss by Elizabeth Hickey (2005), about the Viennese artist Gustav Klimt and his mistress Emilie Floge. More info
The Paris Wife by Paula McLain (2011), about Hadley, Ernest Hemingway's wife during his expatriate years in 1920s Paris. More info
The Glass Room by Simon Mawer (2009), about a Czech couple who work with an architect to build their avant-garde house, where they entertain artists and intellectuals during the 1920s and 1930s as the Nazis rise to power. More info

Nonfiction about Tamara de Lempicka and expatriate Paris:
Tamara de Lempicka: A Life of Deco and Decadence by Laura Claridge (2000). More info
Passion by Design: The Art and Times of Tamara de Lempicka by Kizette de Lempicka-Foxhall (1987), written by Tamara de Lempicka's daughter. More info
A Moveable Feast by Ernest Hemingway (1964), Hemingway's memoir of his life in 1920s Paris. More info

Online:
Official website showcasing Tamara de Lempicka's life and work from 1898-1980.



Back to 20th Century Europe Between the Wars

Back to Directory of Book Reviews