The Language of Bees
by Laurie R. King
Reviewed by Margaret Donsbach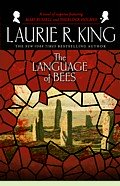 The Language of Bees is the ninth in King's "Mary Russell" mystery series about an independent young American woman who, after Sherlock Holmes and his sidekick Dr. Watson have parted ways, becomes Holmes's assistant and, later, wife. The series has been evolving in a literary direction, and this mystery is something of a hybrid.
Holmes, the immensely popular fictional creation of Sir Arthur Conan Doyle, devoted his exceptional deductive abilities to solving crime. In Doyle's short story "A Scandal in Bohemia," the equally brilliant Irene Adler outwits him, winning his admiration.
In The Language of Bees, Holmes discovers the existence of his shell-shocked, drug-addicted, but artistically gifted son by Irene Adler at the close of World War I when Damian Adler is arrested for murder. In 1924, Damian reappears, needing assistance to find his wife and child, spirited away by a religious cult. Its reclusive leader resembles the historical Aleister Crowley, a mystical theorist whose writings alluded to human sacrifice.
Until the first murder demanding Holmes's attention materializes, the story lingers on one of his beehives, which has died out after an unusual series of swarms. In his absence, Russell decides to educate herself about bees and solve the puzzle. Passages from Holmes's monograph on bees offer intriguing reflections. "What if, instead of manipulative digits and opposing thumbs, we were given only arms, teeth, and wings? If in place of fist and weapon we were given a defence that required us to lay down our own lives?" A bee expert tells her that hives reflect their keepers' personalities. "Your husband's bees tend to be eight parts methodical, one part experimental, and one part equally divided between startling innovation and resounding failure." Some readers may find this the most interesting part of the novel; others will prefer the traditional mystery/thriller that soon takes over.
With both mysteries resolved at novel's end, the culprit in the human murders remains tantalizingly on the loose. The closing words are "... to be continued." (2009, 433 pages)
More about The Language of Bees at Powell's Books

Other mysteries featuring Sherlock Holmes:
The Hound of the Baskervilles by Sir Arthur Conan Doyle (originally published in serial form, 1901-1902), the classic by the creator of Sherlock Holmes. More info
The Seven-Per-Cent Solution by Nicholas Meyer (1974), a mystery which imagines what might have happened if Holmes had teamed up with fellow cocaine-user Sigmund Freud to investigate a murder. More info
Prisoner of the Devil by Michael Hardwick (1979), in which Holmes investigates the historical Dreyfus Case. More info
The Italian Secretary by Caleb Carr (2005), in which Holmes and Watson travel to Scotland to investigate a murder rooted in the sixteenth century murder of a friend of Mary Queen of Scots. More info
Sherlock in Love by Sena Jeter Naslund (1993), in which Dr. Watson narrates one of Holmes's previously unreported adventures. More info

Nonfiction about bees and Aleister Crowley:
Plan Bee: Everything You Ever Wanted to Know about the Hardest Working Creatures on the Planet by Susan Brackney (2009). More info
Robbing the Bees: A Biography of Honey, the Sweet Liquid Gold that Seduced the World by Holley Bishop (2005). More info
Do What Thou Wilt: A Life of Aleister Crowley by Lawrence Sutin (2000). More info

At the Movies:
Sherlock Holmes, 1922 silent film starring John Barrymore in the title role: filmed two years before the fictional events of The Language of Bees. More info
The Hound of the Baskervilles, 1939 movie starring Basil Rathbone in the title role. More info
Sherlock Holmes: The Complete Granada Television Series, a 41-episode television series filmed in the 1980s of the original Doyle stories and stories based on them, beginning with "A Scandal in Bohemia," starring Jeremy Brett as Holmes. More info

Online:
Save Our Swarms article about swarming bees from the British Beekeepers' Association website
Wikipedia article on Aleister Crowley



Back to Novels of 20th Century Prewar Europe

Back to Directory of Book Reviews