Lady Macbeth: A Novel
by Susan Fraser King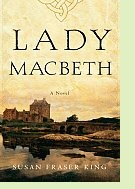 Fans of Celtic fiction should enjoy Susan Fraser King's Lady Macbeth, based on historical research about the real Macbeth and his queen. Historical records suggest that, unlike the character in Shakespeare's play, the real King Macbeth was a popular leader with broad support in Scotland who challenged Duncan only after the latter's unprovoked aggression against a Viking chieftain threatened to plunge the Scots into a war they could not win. An author's note tells which events in the novel are historical, which are speculative, and which are purely fictional.
The author portrays Gruadh, who would become Lady Macbeth, as a proud young woman conscious of her royal Celtic heritage and of the danger and responsibility it brings her. "Because a man could claim the throne of Scotland by marrying me, I was not safe. Nor were my kinsmen, come to that: if they were killed, one after another, our line would be eliminated at its heart, making room for others' ambitions…. Little good did the blood of ancients do me. I was like a lark spiraling upward, unaware of the hawks above judging time and distance to the prize." She was still a teenaged bride, pregnant with her first child, when Macbeth killed her first husband, Gilcomgan of Moray, and married her to seal his right to become the next Laird of Moray. It was hardly the most auspicious beginning to a marriage. And yet the historical record suggests Macbeth and his wife came to trust and respect each other.
The culture of eleventh century Scotland was dramatically different from that of medieval England, and the early chapters move somewhat slowly while the author acquaints readers with Scottish customs that may seem unfamiliar or surprising. The plot gathers intensity once Gruadh and Macbeth are married. 2008, 340 pages.

Other novels about Macbeth and Lady Macbeth:
King Hereafter by Dorothy Dunnett (1982). More info
Macbeth the King by Nigel Tranter (1978). More info

Nonfiction:
Macbeth: A True Story by Fiona Watson (2010). More info
Macbeth: High King of Scotland, 1040-57 A.D. by Peter Berresford Ellis (1994). More info
Macbeth: Man and Myth by Nick Aitchison (1999). More info
Wikipedia entry on the historical Lady Macbeth



Back to Novels of Medieval Europe

Back to Directory of Book Reviews