Kydd
by Julian Stockwin
Reviewed by Annis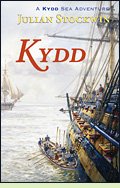 "Kydd took in the colossal form of a great ship. It seemed all gunports and lines of yellow and black timber, unknown fitments and black ropes. It towered up to the deck-line, and then above to an impossibly complex structure of masts and yards, black and ominous against the sky".
Enjoying a convivial brew at a local tavern, young wigmaker Tom Kydd has no inkling that his life is about to change forever. Until now the momentous events of 1793 have had little impact on the rural township of Guildford, but Britain is at war with the French Revolutionary regime and must hastily man its navy. Throughout the countryside the press-gangs are busy at work, "impressing" men by force into the king's navy, and the appalled patrons of the Horse and Groom are amongst their haul.
Home for Tom and his fellow captives is now HMS Duke William, a massive battleship of the line. It's a terrifying, alien world. Conditions are grim, discipline harsh, the rigid rules of conduct and even the language incomprehensible. Kydd is fortunate; under the patient tutelage of a kindly old sea hand he discovers an affinity for the sailor's life. Laughing with exhilaration in the teeth of a gale, he has an epiphany: "Something in him reached out and was answered. A fierce joy touched his soul. It didn't matter that the situation was perilous or the ship doomed. From that moment on Kydd knew in his heart that he would be a seaman".
Kydd is the opening salvo in an addictive series of naval adventures, marked by excellent characterisation and fluid, fast-paced prose. Landlubberly readers may initially flounder in the welter of unfamiliar naval jargon. Grab a lifeline and hang on; as Kydd learns the ropes, so do we, experiencing with him the majesty of the ocean in all its moods, exotic destinations, dramatic, bloody battles on land and sea, and the sturdy comradeship of messmates whose lives depend upon each other's teamwork. (2001; 440 pages)
More about Kydd at Powell's Books or Amazon.com

Other naval adventure novels set during the Napoleonic Wars:
Master and Commander by Patrick O'Brian (1970), #1 in the acclaimed Aubrey and Maturin series. More info
Mr. Midshipman Hornblower by C.S. Forester (1950), #1 in the classic Hornblower series. More info
An Eye of the Fleet by Richard Woodman (1981), #1 in the Nathan Drinkwater series, another popular and long-running series. More info
Find more naval adventures series on the Napoleonic Era page

Nonfiction about naval warfare:
The Wooden World by N.A.M. Rodger (1986). More info
The Line Upon a Wind: The Great War at Sea, 1793-1815 by Noel Mostert (2008). More info
Wetherell of the H.M.S. Hussar: The Recollections of an Ordinary Seaman of the Royal Navy During the Napoleonic Wars by John Wetherell (1953), a seaman's memoir edited by C.S. Forester. More info

Music:
Ewan MacColl sings "The Press Gang" on his 2-disc CD Antiquities
. Hear the song on YouTube

Online:
The Impress Service at the Nelson's Navy website



Back to Novels of the Napoleonic Era

Back to Directory of Book Reviews