The King's Mistress
by Emma Campion
Reviewed by Margaret Donsbach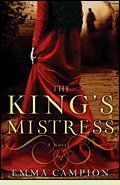 The King's Mistress offers a new angle on one of the most notorious royal mistresses, Alice Perrers, a commoner who became wealthy as the mistress of King Edward III. At one time, she controlled over 56 manors in and around London, most of which she acquired not as gifts but through her own business dealings. After Edward's death in 1377, Parliament stripped her of most of her holdings. Thomas Walsingham excoriated her as "an evil enchantress."
As the narrator of The King's Mistress, Alice's refrain is "When had I a choice to be other than I was?" Forced at age fourteen to marry a wealthy cloth merchant, she falls giddily in love with him, but is also powerfully attracted to King Edward during a visit to court. The king's elderly mother, the infamous Queen Isabella, has a mysterious hold over Alice's husband. Kept in the dark about its nature, Alice rightly suspects that the queen mother's secret presents a grave danger to her and her family. For her protection, she is made a lady-in-waiting to Edward's wife, Queen Philippa. Though the court ladies resent having a commoner among them, Philippa appreciates her knowledge of fine fabrics. Later, after Alice is widowed, it is the ailing Philippa as much as Edward who pushes Alice into his arms.
If the manipulative and greedy Alice in Walsingham's Chronicle is missing here, the canny, adept businesswoman reflected in the historical record is also largely missing. Instead, the novel portrays a helpless victim whose greatest regret is her passivity in accepting richer gifts from the king than was wise. Several scenes show her firmly but tactfully declining his most reckless gifts until he angrily forces her to accept them. A brisker pace and an Alice who, while remaining sympathetic, succumbed to the temptations of luxury, might have made this a juicier novel. Many readers, though, will enjoy its faithful recreation of court life in an era filled with interesting personalities. (2009; 450 pages, including an Author's Note regarding the history behind the novel, and a bibliography)
More about The King's Mistress at Powell's Books or Amazon.com

Other novels set in the time of Edward III:
Hugh and Bess: A Love Story by Susan Higginbotham (2007), about the young bride of the son of Edward II's notorious favorite Hugh Despenser in the time of King Edward III. Review or More info at Powell's Books
Isabel the Fair by Margaret Campbell Barnes (1957), about Queen Isabella, the mother of Edward III. More info
The First Princess of Wales by Karen Harper (2006), the romantic story of Joan of Kent and Edward the Black Prince. More info

Nonfiction about Alice Perrers and Edward III:
Lady of the Sun: The Life and Times of Alice Perrers by F. George Kay (1966). More info
The Perfect King: The Life of Edward III, Father of the English Nation by Ian Mortimer (2006). More info
The St. Albans Chronicle by Thomas Walsingham (14th century; Oxford University Press edition 2003). More info

Online:
Ye Compayne of Cheualrye, the website of a reenactment group in English which specializes in the Plantagenet period, including the reign of Edward III.



Back to Medieval: 14th and 15th Centuries

Back to Directory of Book Reviews