King of Kings
by Harry Sidebottom
Reviewed by Margaret Donsbach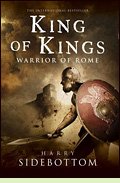 King of Kings is second in the "Warrior of Rome" series, set in the chaotic third-century Roman world. Its central character, Ballista, is based on a historical military official who served Rome as it came under attack and domination by the Sassanid (Persian) Emperor Shapur I, known to his people as the King of Kings.
With great leeway to imagine Ballista's life before history pins him (vaguely and still wriggling) to fact, Sidebottom paints him as a Northern barbarian from Germania. Citizenship, love of literature and marriage to a politically savvy Roman woman cannot spare him from prejudice. Although the Empire swarms with citizens, freedmen and immigrants from all over the known world, it also seethes with animosity against and among them. Worse, Ballista has a knack for infuriating people. Returning to the Roman city of Antioch under a cloud of failure after Shapur's forces destroy the city of Arete, he discovers one of his enemies inside Antioch is trying to kill him - but which one?
Sent to Ephesus to persecute its unpleasantly fanatical Christians, Ballista feels reluctant to part from his wife and son, but not to carry out his duty. The Christians, who betrayed him at Arete, are atheists whose refusal to worship the gods may be at the root of the disasters plaguing the empire. They prove, however, to be bafflingly complex and individual.
Sidebottom spices his direct, no-nonsense prose with plenty of Latin. After a battle: "The dead were left where they had fallen. If they were lucky, their contubernales, their mess-mates, would put a coin in their mouths, close their eyes, sprinkle a little soil on them."
The novel builds to a crescendo with the misguided Battle of Edessa, as Ballista struggles to advise Emperor Valerian against a series of blunders. Readers familiar with Valerian's history will not expect a happy ending; Ballista's personal story ends on a note of uncertainty, looking ahead to the next novel in the series. (2009; 396 pages, including a Historical Afterword discussing sources, a Glossary, List of Roman Emperors of the time of King of Kings and List of Characters)
More about King of Kings at Powell's Books or Amazon.com
Interview with author Harry Sidebottom
King of Kings appears on the list of The 50 Best Historical Novels for a Survey of Ancient Roman History


Other novels about the third-century Roman Empire and its enemies:
Empire of the Dragons by Valerio Massimo Manfredi (2006), about a Roman soldier who is captured along with Emperor Valerian by the Persians, escapes, and journeys to China. More info
The Chronicle of Zenobia, the Rebel Queen by Judith Weingarten (2006), about a Jewish lawyer in third century Palmyra (now Syria) who rises to become the friend and confident of Queen Zenobia, who warred against Rome in the time of Emperor Aurelian. More info
Queen of the East by Alexander Baron (1956), about Zenobia of Palmyra. More info

Nonfiction about the wars between Rome and Persia:
Rome and Persia in Late Antiquity: Neighbours and Rivals by Beate Dignas and Engelbert Winter (2007). More info
The Valerian Persecution: A Study of the Relations Between Church and State in the Third Century A.D. by Rev. Patrick J. Healy (1905). More info or read online at Google Books
Online:
Dura-Europos, 'Pompeii of the Syrian Desert', a website about the archaeological site of the city Ballista failed to protect from Shapur's army, known as "Arete" in King of Kings



Back to Novels of Ancient History

Back to Directory of Book Reviews