The Killing Way
by Tony Hays
Reviewed by Margaret Donsbach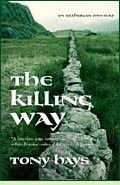 The Killing Way blends the popular historical mystery genre with a setting in Arthurian Britain which, despite being mined through the centuries, still holds a wealth of storytelling possibilities. The protagonist is a newly invented character, Malgwyn, who bitterly resents Arthur for not letting him die after he loses an arm in battle. Arthur is not king yet, but a battle commander temporarily successful in stemming a marauding tide of Saxons, who hopes to be named the next king.
Most of the elements of a rip-roaring mystery are here: a grisly murder, a reluctant detective isolated by his unhappiness, a sympathetic character (the elderly and slightly addled Merlin) who will be punished for the murder if the real culprit cannot be found PDQ, and a finale that neatly wraps up the puzzle with a surprise that has readers saying "Aha!"
Through much of the novel the mystery is subordinated to Malgwyn's personal story. While a mystery can succeed despite this, the personal story falls short because Hays too often goes for a flashy gesture or bit of dialogue over the less obvious and more meaningful one that would truly illuminate his characters. For example, Malgwyn, whose shame over his maimed arm is supposed to be so overwhelming he hates the man who kept him alive, asks a young boy, "Owain, have I ever lied to you?" When the boy shakes his head, Malgwyn responds, "I would have given my one arm to keep you from having seen" the appalling thing the boy saw. They're fine words, but Malgwyn delivers them so easily, they sound like a lie while also undermining the central premise on which his character is based.
The post-Roman setting, though, is expertly portrayed, and, after a slow beginning, the story moves at a pleasantly brisk pace. The biggest flaw in The Killing Way is that Hays reaches for a literary depth he doesn't quite pull off. (2009, 272 pages, including an Author's Note discussing the historical background)
More about The Killing Way at Powell's Books

Some mysteries set in Roman Britain (so far, The Killing Way appears to be the only mystery set in a realistic fifth century Arthurian Britain):
Medicus by Ruth Downie, #1 in the Roman Empire mystery series about a physician for a Roman legion posted in Britain. More info
Get Out or Die by Jane Finnis, #1 in the Aurelia Marcella mystery series about a woman innkeeper in first century Roman Britain. More info
The Germanicus Mosaic by Rosemary Rowe, #1 in the Libertus mystery series about a mosaic-maker in second century Roman Britain. More info

Nonfiction about post-Roman Britain:
The Arthurian Handbook, by Norris J. Lacy and Geoffrey Ashe with Debra N. Mancoff (2nd ed. 1997). More info
An Age of Tyrants: Britain and the Britons, A.D. 400-600 by Christopher Snyder (1998). More info
The Real King Arthur: A History of Post-Roman Britannia, A.D. 410 – A.D. 593 by P.F.J. Turner (1993). More info

At the Movies:
King Arthur, the 2004 film with Clive Owen, Ioan Gruffudd and Keira Knightley. Keira Knightly's role is ridiculous, featuring a skimpy leather-and-hardware outfit no one of either sex would have worn in chilly northern Britain, but Arthur is about as authentic a blend of Roman soldier and scrappy British patriot as Hollywood is ever likely to give us, and the scenery is great. More info

Online:
Wikipedia article on Sub-Roman Britain



Back to Novels of Ancient History

Back to Directory of Book Reviews