Killing Rommel
by Steven Pressfield
Reviewed by Annis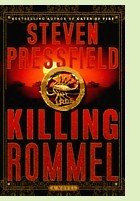 Killing Rommel is Pressfield's tribute to the men of the Long Range Desert Group, an elite unit of raiders and deep desert reconnaissance experts. The crews were an eclectic mix of British and Commonwealth soldiers, intrepid, enterprising men with a "can-do" attitude. "A sort of mechanised highway robbery" is how founding member Major Kennedy Shaw described their role in North Africa during World War II.
Late in 1942 the Allied forces were on the run, none more so than in North Africa, an area of vital strategic importance. The Axis army, spearheaded by German Field Marshall Rommel's formidable Panzer tank units, had the Allies at the point of defeat.
A desperate plan is devised to kill Rommel, the heart and soul of the Afrika Korps. Eliminating the brilliant, charismatic "Desert Fox" would throw his troops into disarray, giving the Allies a breathing space. Who better equipped to take part in such a covert operation than the LRDG? Written in the form of memoirs by an English officer chosen for the mission, this is a tense, gripping thriller, capturing the terror, tedium and knife-edge exhilaration of war with meticulous attention to detail and historical authenticity.
The North African campaign was an extraordinary affair. Rommel dubbed it "war without hate," a ferocious, bloody conflict, marked nonetheless by mutual respect and a chivalric code of conduct.
Pressfield's study of parallel tactics used by Alexander the Great's cavalry units and Rommel's Panzerarmee inspired Killing Rommel. Alexander's words offer a fitting valediction for the men of both sides forced to fight and kill those who might otherwise have been comrades: "Holy shadows of the dead, I am not to blame for your cruel and bitter fate, but the accursed rivalry which brought sister nations and brother people to fight one another." (2008, 331 pages, with maps)
More about Killing Rommel from Powell's Books

Other novels about Rommel and the North African Campaign:
Rising Tide by Jeff Shaara More info
City of Gold by Len Deighton More info

Nonfiction about Rommel and the North African Campaign:
War Without Hate: The Desert Campaign of 1940-1943 by John Bierman & Colin Smith More info
Long Range Desert Group by W.B. Kennedy Shaw More info
The Rommel Papers by B.H. Liddell Hart More info

Online:
Interview with Steven Pressfield about how he wrote Killing Rommel
Wikipedia article about The Long Range Desert Group

Stephen Pressfield's YouTube feature about Killing Rommel



Back to Novels of World War II

Back to Directory of Book Reviews