The Key
by Benita Kane Jaro
Reviewed by Margaret Donsbach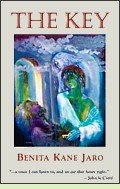 First in a trilogy, The Key tries to unlock the mystery behind the love affair between the first century B.C. Roman poet Catullus and his beloved "Lesbia." Historians generally agree that the Lesbia of Catullus's poems was Clodia, the beautiful and unhappy wife of the patrician Metellus Celer. Clodia was notorious for her promiscuity, and Catullus's love poems reflect wild joy, despair, jealousy and fury by turns, sometimes within the same poem. These are not written in the romantic style more typical of love poetry then and now, but are often crassly humorous and bitter. Catullus died young, probably at age thirty.
This carefully researched novel is narrated by Caelius, an old friend of Catullus. Catullus's grieving father has given Caelius a box of writings and miscellaneous effects along with the request, "Explain him to me." The result is a narrative that segues smoothly from the friend's own memories of Catullus to reconstructions of Catullus's most intimate experiences, laced with his poems (translated by Jaro).
There my white goddess delicately stepped,
setting her foot on the smooth stone
as she pressed her shining sandal down.

The spare but evocative poems lead into Jaro's often lush prose. "Her body rose and fell under him like a wave not of the river but the sea, pulling him under until he seemed to travel to the bottom of the ocean . . ." Politics surround the lovers as Julius Caesar begins his rise, but Catullus is oblivious to all but his passion for Clodia, which becomes increasingly tortured as her marriage goes from bad to worse. Her erratic attentions leave Catullus feeling blessed at one moment, in despair the next.
Caelius mourns his friend uncomfortably amid memories colored by a sense of guilt. He strives, despite this, to understand the emotions and events behind the poems – but when was love ever rational? (1988; 240 pages, including an appendix discussing the translations and the history behind the story)
More about The Key at Amazon.com

Other novels in the trilogy:
The Lock (1994) is about Caelius and Cicero. More info
The Door in the Wall (2002) is about Caelius and Caesar. More info

Other novels about Clodia and Catullus:
Counting the Stars by Helen Dunmore (2008). More info
Clodia by Robert DeMaria (1965). More info

Nonfiction about Clodia and Catullus:
Catullus: A Poet in the Rome of Julius Caesar by Aubrey Burl (2004).
More info
Catullus and His World: A Reappraisal by T.P. Wiseman (1985). More info
Clodia: A Sourcebook by Julia Dyson Hejduk, editor and translator (2008), translations of the original Roman sources for Clodia's life. More info

Online:
Catullus's poems in translation at Rudy Negenborn's Catullus website.
Catullus article at Wikipedia



Back to Novels of Ancient History

Back to Directory of Book Reviews