Katy Moran Interview
October 7, 2011
HistoricalNovels.info interviews
the author of Bloodline

We were fortunate to have Katy Moran visit the blog on October 7, 2011, to talk about her YA novel Bloodline, set in Anglo-Saxon England. Annis has reviewed Bloodline and describes it as a "vivid, fast-paced adventure." She had these questions for Katy:

What inspired you to use the little-known Anglo-Saxon period as the setting for Bloodline?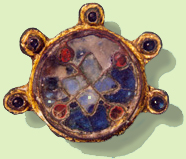 I was studying Anglo-Saxon archaeology at university when my parents gave me a brooch they'd found in an antique shop. It was sold to them as a fake Viking artefact but when I took it to show my tutor, we ended up deep in the bowels of the British Museum. They have about 16 other brooches the same as mine, all made by an Anglo-Saxon artisan about 900 years ago. I couldn't stop thinking about that person, who the owned the brooch, and why they lost it. It acted as a time machine, taking me back over 1,000 years.

Bloodline is the first in a trilogy. Did you always intend to follow Essa's story with those of his own bloodline - his son and grand-daughter?
Ah, well spotted with the connection between Essa and Asena! I didn't really plan a trilogy - Spirit Hunter is more of a stand-alone title than Bloodline Rising, which has a very clear link to the first book.

All the Bloodline novels have a thread of magic running through them. Do you see this as fantasy or something rooted in the Dark Age worldview?
I don't see the magic as fantasy at all, particularly not with Bloodline and Bloodline Rising - it's part of their world. There's a part of me that really believes any of us could develop the unusual skills Essa, Cai and Asena all have - it's just that the world has changed and we have forgotten.


---


Review of Bloodline by Katy Moran
See listing for Bloodline at Powell's Books
See listing for Bloodline at Amazon.com