Katherine
by Anya Seton
Reviewed by Susan Gillmor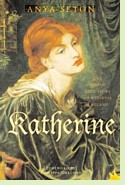 Katherine depicts a span of thirty years in the life of Katherine de Roet, a Flemish knight's daughter whose descendants would become the royal Tudors of England. A girl of fifteen when we meet her leaving the convent that sheltered and raised her, she is about to join her elder sister at court to find a suitable husband. Sir Hugh Swynford, liege man to John of Gaunt, the powerful and oft-maligned Duke of Lancaster, is smitten with her on first sight. Though the Duke catches Katherine's eye, it is Sir Hugh she must wed.
Katherine Swynford's unhappy marriage becomes the fire that forges her strength and poise, which soon enchants the Duke. But her admiration and love for John's wife, the Duchess Blanche, serves as a powerful deterrent to any fulfillment of the growing passion between them. Her first reaction to Blanche, when the duchess rescued her from the snobbish contempt of the other court ladies, was hero-worship: "The duchess was today dazzling as the southern May, having dressed to please her husband's taste, in full magnificence of jewels and ermine. Her silver-gilt hair was twined with pearls and she wore her gold and diamond coronet. She smelled of jasmine and Katherine adored her."
Seton offers a personal story of love, sacrifice and endurance, but also a broad view of the waning days of the Plantagenet dynasty, a pivotal time in England's history. A young Geoffrey Chaucer marries Katherine's sister, Philippa, and we hear him belittling himself as "an indifferent maker" of poetry. The horrors of the plague are a vivid presence. John Wyclif disrupts the comfortable Roman Catholic clergy with his English translation of the Bible, making the scriptures directly accessible to their flocks. Led by John Ball and Wat Tyler, the peasants revolt against a staggering burden of taxation in a burst of violence that spills into Katharine's private world and threatens her life.
This is "the classic love story of medieval England" for good reason.
(2004 paperback edition; 512 pages, including a Foreword by Philippa Gregory and Author's Note and Afterword by Seton)
More about Katherine at Powell's Books

Other novels featuring John of Gaunt:
The Passage to Pontefract by Jean Plaidy (1981) , about the turbulent relationship between Richard II, crowned King of England at the age of ten, and his uncle John of Gaunt, who served as regent. More info
Courting Favour by Nigel Tranter (2000), about John of Moray, who served as a diplomat for King David of Scots in the fourteenth century and negotiated a peace treaty with England's John of Gaunt. More info

Nonfiction about Katherine Swynford and John of Gaunt:
Katherine Swynford: The History of a Medieval Mistress by Jeanette Lucraft (2006). More info
Mistress of the Monarchy: The Life of Katherine Swynford, Duchess of Lancaster by Alison Weir (2008; also titled Katherine Swynford: The Story of John of Gaunt and his Scandalous Duchess). More info
John of Gaunt: The Exercise of Princely Power in Fourteenth-Century Europe by Anthony Goodman (1992). More info
The Last Knight: The Twilight of the Middle Ages and the Birth of the Modern Era by Norman F. Cantor (2004), about John of Gaunt and his world. More info

Online:
Judy Perry's Katherine Swynford blog



Back to Medieval: 14th-15th Centuries

Back to Directory of Book Reviews