Kabbalah of Stone
by Irene Reti
Reviewed by Margaret Donsbach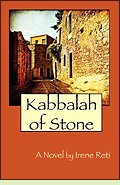 As its title suggests, Kabbalah of Stone is a novel about Jewish mysticism. Each of its two layers of story centers on a different main character, but the layers intertwine.
Huldah was a woman prophet mentioned in the Old Testament. Though little is known about her, the novel imagines her as a devotee of Asherah, a goddess figure who once partnered the male god of the Jews. Huldah's soul travels through the medium of stone to visit and inspire other Jewish teachers through the ages.
Domingo is a young scribe in Girona, Spain, in 1491, the year before the expulsion of the Jews. He and his boyhood friend Pau, whose ambition is to become a priest, are secret lovers in a society in which one of the few things uniting Jews and Christians is their condemnation of homosexuality. Domingo's world is turned upside down when he discovers his family are conversos, Jews who converted to Christianity to avoid persecution but who are now at even greater risk. Conversos who secretly practice Judaism are considered to be heretics and, if caught, may be condemned to burn. Despite the danger, Domingo is drawn to study the Hebrew alphabet with a rabbi in Girona's Jewish quarter. Along with Domingo, readers will learn something of the kabbalistic approach to Hebrew letters, each of which has a sacred meaning that transcends the literal.
Kabbalah of Stone is most engaging when it explores the mystical journeys Domingo and the rabbi take with Huldah; Domingo and Pau are too one-dimensional to be compelling, and the story shies away from fully developing what might have been an agonizing conflict as the Inquisition begins pressuring Christians to expose their secretly Jewish neighbors. Readers interested in kabbalah but daunted by its complexities may find this novel an appealing, if not strictly orthodox, introduction. (2010; 289 pages including an Author's Note separating history from fiction, a glossary, and an extensive bibliography)
More about Kabbalah of Stone at Amazon.com

Other novels about Jewish mystics:
Incantation by Alice Hoffman (2006), a young adult novel about a teen in Spain at the beginning of the sixteenth century who discovers her family are secret Jews who practice kabbalah. More info
The Last Kabbalist of Lisbon by Richard Zimler (1998), a murder mystery set during the April 1506 massacre of Jews in Lisbon. More info
The Green Rose by Warren A. Silver (1977), about the eleventh-century Spanish Jewish mystic and poet Solomon ibn Gabirol. More info

Nonfiction about Jewish mysticism:
On the Wings of Shekhinah: Rediscovering Judaism's Divine Feminine by Rabbi Leah Novick (2008). More info
Magic of the Ordinary: Recovering the Shamanic in Judaism by Gershon Winkler (2003). More info
The Book of Letters: A Mystical Alef-Bait by Lawrence Kushner (1975). More info

Online:
Kabbalah at the Jewish Virtual Library



Back to Medieval: 14th-15th Centuries

Back to Directory of Book Reviews