Jude Morgan Interview
April 28, 2010
HistoricalNovels.info interviews
the author of Charlotte and Emily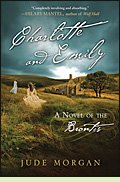 Visiting the blog on April 28, 2010, was Jude Morgan, author of Charlotte and Emily (titled The Taste of Sorrow in the U.K.), about the remarkable Bronte sisters and their family. Jude gave us a small sample of the insights in this superb novel.

What drew you to write about the Brontes?
The fascination of three siblings who were all artists, and who had this incredible closeness throughout their lives. And the element of struggle: the contrast between the narrowness of their circumstances and the brilliance of their imagination.

Emily was intensely shy of publicity. How do you think she would feel about your portrayal of her?
I think Emily would have despised my portrait of her, but also would have laughed at my absurd misconceptions. But maybe she would let me off for not inventing a Heathcliff-like lover for her...

Of all the Bronte children, Branwell seemed the least mistreated but the most damaged. Why do you think that was?
A lot of Branwell's damage was self-inflicted - but then that can be traced to the high expectations that were placed on him. As the man of the family he was expected to do great things, especially in his fond father's eyes; but actually, he was only a talent among a family of geniuses. I think he knew that very well as time went on, and psychologically it wrecked him.



---


Review of Charlotte and Emily by Jude Morgan
See listing for Charlotte and Emily at Powell's Books
See listing for Charlotte and Emily at Amazon.com