The Jewel Trader of Pegu
by Jeffrey Hantover
Reviewed by Margaret Donsbach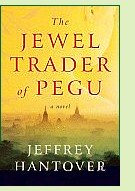 A title like The Jewel Trader of Pegu leads readers to expect wonder and peril in an exotic locale. They'll find it, but above all else, this novel is a tender love story and a spiritual meditation on compassion.
Abraham is a widowed Venetian Jew in his late twenties. In the year 1598, his uncle sends him on a mission to buy jewels in the Burmese merchant town of Pegu. In Pegu, he sets aside the yellow hat labeling him Jew and inferior to walk as freely through the streets as any other European, or indeed a native. He delights in the house assigned to him, "even though its walls are made of wood, its floor of split bamboo, and its roof cane and plaster mixed with lime," because it is utterly unlike a Venetion tenement "stacked family upon family, in a warren of quarters carved one from the other." The Peguans "bow their heads and with a slight smile say it is a very auspicious house."
Nevertheless, the local customs astound Abraham, who writes of the women, "Where to begin the litany of their grotesqueries? Their teeth are blackened dark as charcoal and their lips stained red from the betel leaves they constantly chew and spit upon the ground.... The debauched Europeans who take these women for their temporary wives must have eyes blinded by desire. There can be no affection in these arrangements." There is foreshadowing here. Abraham soon learns why the Peguans consider his house auspicious, when he is asked to perform a task not only forbidden by his religion but deeply repugnant to him.
The voice alternates among "historical" documents, Joseph's letters to his brother, and present-tense narration by a young Burmese woman whose path is destined to cross Abraham's, transforming his life. Small but infused with light, The Jewel Trader of Pegu is itself a jewel of a novel. (2008, 227 pages)
The Jewel Trader of Pegu is on my "Best Historical Novels I Read in 2009" list.
More about The Jewel Trader of Pegu from Powell's Books

Other novels about early travelers in foreign climes:
The Arabian Nightmare by Robert Irwin (1983), a surrealistic literary novel about an Englishman in medieval Cairo. More info
Leo the African by Amin Maalouf (1986), about Hasan al-Wazzan, or Leo Africanus, a sixteenth century Moroccan geographer and his travels through the Mediterranean world. More info
Caravan to Xanadu by Edison Marshall (1953), an adventure novel about Marco Polo. More info

Nonfiction about the history of Burma (or Myanmar)
Fire and Blood: Rubies in Myth, Magic and History by Diane Morgan (2007), includes a section about Nicola di Conti, a Viennese traveler who became the first European to visit Pegu in 1435. More info
Burma by D.G.E. Hall (1960). More info
History of Burma: From the Earliest Time to the End of the First War with British India by Arthur Phayre (2001). More info

Online:
Burma (Myanmar) from Chapter 12 of Ruby & Sapphire by Richard Hughes



Back to Novels of the Renaissance

Back to Directory of Book Reviews