Jeanne Kalogridis Interview
July 16, 2010
HistoricalNovels.info interviews
the author of The Scarlet Contessa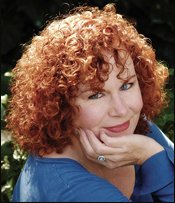 We welcomed Jeanne Kalogridis to the blog on July 16, 2010, for an interview about her latest novel, The Scarlet Contessa, which features the remarkable Renaissance woman Caterina Sforza.

Dea, the heroine of The Scarlet Contessa, reads Tarot cards. Have you ever had a personal brush with the occult?
If a "personal brush" means study, then yes, I've studied Tarot and Qabala and astrology for about thirty years, while remaining an uncommitted skeptic. (Sorry, no spooky tales to relate.) I started reading up on them as a lark--and found such a fascinating, in-depth philosophical system linking all three that I collected more and more books on the subjects. The narrator of The Scarlet Contessa, Dea, is given a "triumph" deck (the forerunner of Tarot) because the first use of triumph/Tarot cards was documented in the court of the Duke of Milan. Those interested can find images of the Visconti-Sforza Tarot deck online (I purchased a facsimile deck and used it constantly during the writing of the book).

Caterina Sforza is a fascinating historical figure but has not attracted as many novelists as her contemporary Lucrezia Borgia. What drew you to write about Caterina?
When I began researching Caterina Sforza's life, I couldn't believe that she was relatively unknown in the U.S.; she was one of the toughest, bravest, strongest women ever to live. Everyone needs to know about her! The daughter of the Duke of Milan, she considered herself the equal of any man and refused to live her life according to fifteenth-century mores. She was a skilled swordswoman, military commander, businesswoman and political strategist, took lovers when she pleased, and behaved exactly like a male Renaissance prince. While seven months' pregnant, she took over the fortress of the Castel Sant' Angelo in Rome and held it successfully for weeks. Her remarkable bravery under siege by Cesare Borgia's massive army deserves a mention in every history textbook.

So many remarkable people lived during the fifteenth century. Do you plan to write about other people of Caterina's time?
It's hard for me to see very far beyond the next book, but I remain enthralled by Renaissance Europe. Right now, I'm working on The Inquisitor's Wife, about a fictional heroine living in Seville, Spain, in 1480-1481. Queen Isabel and Torquemada are among the characters. Most people believe that the Spanish Inquisition hunted down Jews; the Crown did, in fact, persecute Jews and eventually banished them from Spain in 1492. But racism was so rampant in Spain that the Inquisition focused on Christian descendants of Jews; their blood was considered "tainted" and they were suspected of secretly continuing to practice Judaism.


---


Review of The Scarlet Contessa by Jeanne Kalogridis
See listing for The Scarlet Contessa at Powell's Books