Island of the Swans
by Ciji Ware
Reviewed by Margaret Donsbach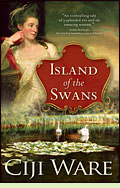 Island of the Swans is a fat historical romance based on the life of the remarkable eighteenth-century Scottish duchess Jane Maxwell. Sometimes, life really is like a soap opera: the real Jane Maxwell married Alexander, the fourth Duke of Gordon, in 1767 after the soldier she loved was reported dead in America, the victim of a gruesome Indian attack. While on her honeymoon, though, she received a letter from the soldier - obviously very much alive - asking her to marry him. She is said to have fainted upon reading it.
The novel revolves around this dramatic incident, portraying Jane's anguish at being torn between the wealthy nobleman for whom she strives to be a good wife and the childhood sweetheart she can never successfully banish from her heart. Unrestrained in portraying her yearning, the novel can slip into melodrama: "Try as she might, in these last years there had not been a day she didn't think of Thomas, wonder of his whereabouts, worry for his safety. She . . . knew, with the awful certainty of the damned, that she could never completely give her heart to Alex." Both men are jealous lovers with hot tempers who repeatedly cause her heartache. The many reversals and counter-reversals can be repetitious, but readers who delight in a juicy, over-the-top romance will find this fills the bill. Sex scenes with both men are passionate and moderately explicit, tasteful without excluding readers from bedroom or bed.
Jane Maxwell moved in important circles, socializing with King George III and the younger Prime Minister William Pitt and playing an active role in politics. She was an early sponsor of Scottish poet Robert Burns. Although most of Island of the Swans focuses on Jane's romantic conflicts, her political and cultural activities add texture and interest, especially in the later chapters. (1988, new Sourcebooks edition 2010; 569 pages, including an Acknowledgments section that mentions historical sources)
More about Island of the Swans at Powell's Books or Amazon.com

Other novels set during Jane Maxwell's lifetime:
The Fields of Fortune by Jessica Stirling (2007), about a young woman who flees to Edinburgh to escape a disastrous marriage More info
The Wind that Shakes the Barley by James Barke, (1947), about the Scottish poet Robert Burns; #1 in a quintet More info.
Life Mask by Emma Donoghue (2004), about an actress who moves in political circles in 1790s London. More info

Nonfiction about eighteenth-century Scots and Scotland:
Crowded With Genius: The Scottish Enlightenment, Edinburgh's Moment of the Mind by James Buchan (2003). More info
Scots in London in the Eighteenth Century by Stana Nenadic (2009).
More info
Lairds and Luxury: The Highland Gentry in Eighteenth-Century Scotland by Stana Nenadic (2007). More info

At the Movies:
The Madness of King George, a 1994 film about the descent of King George III into madness, starring Nigel Hawthorne as King George and Helen Mirren as Queen Charlotte.

Online:
Article about Jane's son George Gordon, the fifth Duke of Gordon, at Wikipedia.



Back to Novels of the Eighteenth Century

Back to Directory of Book Reviews