Iron and Rust

by Harry Sidebottom

Reviewed by David Maclaine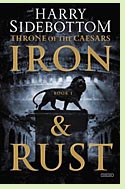 With Iron and Rust Harry Sidebottom extends his dominance of historical fiction set in the Third Century Roman Empire. This first volume of the new Throne of the Caesars series is a prequel to Sidebottom's Warrior of Rome series. It begins with an emperor cut down by his own troops, who then force an officer to assume the imperial mantle: this is the emperor who will die in the first Warrior of Rome novel.
The battle scenes in the new series are as skillfully described as in the last. But the African skirmishes, an abortive clash with Persia, and hard fighting in Germany and the lands that would later become Hungary are only parts of a larger mosaic. This time, Sidebottom shifts focus from one chapter to the next, offering the viewpoints of an assortment of characters, including officials scattered across the empire, a widowed patrician woman, a Roman craftsman designing dies for coins, and the emperor himself. Each must try to plot a path through the uncertainties of a new age, when survival seems precarious, and the empire itself has begun to totter.
As always, Sidebottom brings to this novel an unmatched knowledge of the period, and his craftsmanship makes the complex social and political world of this distant era seem like one in which the reader is at home. The quickly shifting changes of viewpoint prevent any one protagonist from becoming the main focus of the story, which means the reader, unless unusually well versed in history, will be kept in suspense over how long any character will survive. Those who wish a full-cadence ending may be disappointed, because the story comes to an end just as the crisis comes to a head. Sidebottom's fans will want to make sure that when they come to the exciting conclusion of Iron and Rust they can quickly lay hands on his next volume, Blood and Steel. (2015, 404 pages)
More about Iron and Rust at Powell's Books
or
Amazon.com
Other novels set in the Third Century Roman Empire:
Fire in the East
by Harry Sidebottom (2008), #1 in the Warrior of Rome series. See
review
or
more info at Powell's Books
The Sun's Bride
by Gillian Bradshaw (2008), about the helmsman of a third-century Rhodian ship whose mission is to hunt and destroy pirates. See
review
or
more info at Amazon.com
The Wall
by Peter Vansittart (1990), about a family in third-century Rome after Emperor Aurelian builds a wall around the city.
More info
Nonfiction about the third-century Roman emperor Maximinus I:
Maximinus Thrax: From Common Soldier to Emperor of Rome
by Paul N. Pearson (2016).
More info
The Roman Empire's Response to Crisis, A.D. 235-337
by Ramsay MacMullen (1976).
More info
Roman History
by Herodian of Antioch, Book VII (3rd century).
English translation online at Livius.org
Online:
Maximinus Thrax
at Wikipedia
Back to Novels of Ancient History
Back to Directory of Book Reviews