An Irish Country Girl
by Patrick Taylor
Reviewed by Margaret Donsbach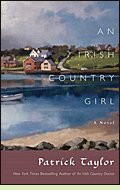 An Irish Country Girl is the fourth novel in the series beginning with An Irish Country Doctor, but it easily stands alone. Although most of the series is set in the 1960s in Ballybucklebo, a tiny village in Northern Ireland, this novel looks back to County Cork in the 1920s. Maureen "Kinky" Kincaid, the housekeeper for Ballybucklebo's established physician, tells a ghost story to entertain a group of children assembled in the doctor's house after Christmas-caroling there.
The story is about her elder sister's beau. He refused to heed the warning of Maureen's fey mother that he must not cut down a blackthorn tree sacred to the Dubh Sidhe or Doov Shee - the fairy folk. "'Ordinarily,' says Ma, 'the Shee'll not mind if you pick the sloes in the autumn or cut a branch for a walking stick, not if you ask their permission first, but today's different. You mustn't touch as much as a twig today.'" It's November 11, the ancient Celtic holiday of Lughnasa. Of course, he fails to heed the warning, and disaster follows.
After Kinky finishes telling the story - or the first part of it - and sends the children home, she continues to reflect on her girlhood, and the novel shifts into third-person narration. Maureen's coming-of-age involves planning a schoolteaching career, falling in love, and discovering she has inherited her mother's talent as a seer. As the resulting conflicts play out, Maureen finds herself at the center of the chain of events that began with the felling of the blackthorn.
Speaking to her young audience, Kinky dispenses a matter-of-fact wisdom as she gently mediates disputes and instills good manners. She cooks with offhand skill and has acquired considerable extra padding because of her pleasure in a well-prepared meal. Her tales of the spirit world are especially charming because they are so seamlessly woven into the everyday practicality of her life. (2010; 319 pages, including an afterword suggesting further reading, recipes, and a glossary)
More about An Irish Country Girl at Powell's Books or More info

Other novels in the series:
An Irish Country Doctor (2007). More info
An Irish Country Village (2008). More info
An Irish Country Christmas (2008). More info

Other novels about Ireland and the spirit world:
A Game of Sorrows by Shona MacLean (2010), about an educated man of the seventeenth century who goes to Ireland to free his family from a bard's curse. More info
Carolan's Concerto by Caiseal Mór (2002), about an Irish rebel who hears a story at a campfire about the eighteenth-century Irish harper Turlogh O'Carolan, said to have received his talent as a gift from the fairies.
More info
A Shadow of Gulls by Patricia Finney (1977), about an Irish harper cursed by Queen Maeve and caught up in the legendary Cattle Raid of Cooley in the first century B.C. More info

Nonfiction about County Cork, Ireland:
Visions and Beliefs in the West of Ireland by Lady Augusta Gregory (1920). More info
Northside of the Mizen: Tales, Customs and History of County Cork in Ireland by Patrick McCarthy and Richard Hawkes (2001). More info

Online:
"Celtic Folklore: The People of the Mounds" by L. MacDonald



Back to 20th Century Europe: Between the Wars

Back to Directory of Book Reviews