The Invisible Bridge
by Julie Orringer
Reviewed by Margaret Tomlinson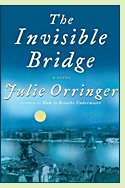 The Invisible Bridge is a portrait of Hungary during the Nazi era, told from the perspective of a talented young Jewish man who studies architecture in Paris until the intensifying persecution of Jews forces him back to Hungary and into worse danger. 

During the early 1940s, Hungary was an ally of Germany for reasons that had little to do with Hitler's anti-Semitic policies. Its regent, Miklós Horthy, appreciated Germany's help in recovering territories Hungary had lost after WWI, while he resisted sending Hungarian Jews to be exterminated in Nazi concentration camps. Instead, Hungarian Jewish men were conscripted into labor camps run by Hungarians. Conditions in the labor camps were terrible. Prejudiced overseers and guards typically overworked, underfed and mistreated the men; it was not, however, official policy to murder them.

In 1937 Andras Lévy is thrilled by his opportunity to study architecture in Paris, despite his rudimentary knowledge of French and his lack of a financial cushion. He makes friends with some of his fellow students and falls in love with a Hungarian-speaking woman with a mysterious past. Although the impending war does not interrupt his studies until halfway through the novel, his struggles before that point are difficult enough to make his story absorbing and win a reader's affection as he grows from a naïve boy missing his elder brother's guidance into a young man who must make decisions with life-or-death consequences.

Readers interested in exploring the history of the Nazi era from a lesser known angle will find The Invisible Bridge a thoughtful and emotionally gripping introduction to the experience of Hungarian Jews. (2010; 597 pages)
More about The Invisible Bridge at Powell's Books
or
The Book Depository
Other novels about Hungarian Jews during the WWII period:
Louisa
by Simone Zelitch (2000), about a Hungarian Jew and her widowed German Christian daughter-in-law, who in 1949 insists on accompanying her to Israel in 1949, and their experiences during the war.
More info
Gratitude
by Joseph Kertes (2009), about a family of wealthy Hungarian Jews and their efforts to survive during the World War II years.
More info
Lady Lazarus
by Michele Lang (2010), historical fantasy about a young Hungarian woman whose inherited powers as a Jewish witch may give her the ability to stop Hitler; #1 in a series.
More info
Nonfiction about Hungary during WWII:
I Kiss Your Hands Many Times: Hearts, Souls, and Wars in Hungary
by Marianne Szegedy-Maszák (2013), about the author's parents, who met and fell in love in Budapest in 1940 and were separated when he was sent to Dachau and her family were forced into hiding after Hitler's 1944 invasion of Hungary.
More info
Hungary in World War II
by Deborah S. Cornelius (2011).
More info
Hungary at War: Civilians and Soldiers in World War II
by Cecil D. Eby (1998).
More info
Online:
Hungary Before the German Occupation
at the United State Holocaust Memorial Museum's Holocaust Encyclopedia
Back to WWII Europe, the Home Front
Back to Directory of Book Reviews