The Independence of Miss Mary Bennet
by Colleen McCullough
Reviewed by Margaret Donsbach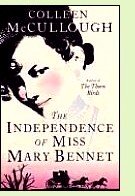 The Independence of Miss Mary Bennet takes up the story of Fitzwilliam Darcy, his wife Elizabeth and her eccentric family twenty years after the close of Jane Austen's Pride and Prejudice. At the center is Elizabeth's bookish sister Mary, now long recovered from her teenaged crush on the Reverend Mr. Collins.
Sent away after the Darcy marriage to care for her embarrassing mother, Mary is suddenly freed from two decades of genteel bondage when old Mrs. Bennet dies. Mary decides neither to accept the Darcys' invitation to move in with them nor to wed one of her ardent and eligible suitors, thereby appalling her relations. Yet more appalling is her plan to travel through England investigating the woes of the poor and downtrodden.
Though McCullough borrows the characters of Pride and Prejudice, she has no intention of duplicating Austen's literary style in all respects. Mary's project lends the novel a Dickensian turn, in which the risk of social death pales in comparison with the risk of literal death into which the plucky and intelligent but perilously sheltered Mary plunges herself.
She is not the only worry besetting the Darcys. Their marriage has proved worse than a disappointment to both Fitz and Lizzie. Lizzie's sister Lydia emerges, more disreputable than ever, to torment them. Fitz's mysterious friend Ned Skinner reveals sinister depths. And the engaging Darcy children are at the brink of leaving the nest.
Readers may find it easier to keep track of the many characters if Pride and Prejudice is fresh in their minds, but McCullough juggles her plots and subplots well and entertainingly. Much of The Independence of Miss Mary Bennet has the un-Austen-like pacing and tension of a thriller, but an extended denouement neatly ties up all the subplots in proper Austen style, providing happy, socially acceptable endings for the surviving characters. (2008, 336 pages)
More about The Independence of Miss Mary Bennet at Powell's Books

Pride and Prejudice and some other sequels:
Pride and Prejudice by Jane Austen (1813). Plot summary and other info at Wikipedia; more info at Powell's Books
Mr. Darcy Takes a Wife by Linda Berdoll (originally published in 1999 as The Bar Sinister), a bodice-ripping tale of the Darcy marriage. More info
Mr. Darcy Presents His Bride by Helen Halstead (originally published in 2004 as A Private Performance), about the Darcy marriage, as Elizabeth's aristocratic new social circle threatens her happiness with Fitzwilliam. More info
The Pemberley Chronicles by Rebecca Ann Collins (2008), about the Darcys' efforts during the first 25 years of their marriage to balance tradition with progressive reforms amid the Industrial Revolution. More info

Nonfiction about Jane Austen:
A Memoir of Jane Austen by James Edward Austen-Leigh (1926). More info
Jane Austen's Letters edited by Deirdre Le Faye (1995). More info
Jane Austen: A Life by Claire Tomalin (1997). More info

Online:

"How Rich Is Fitzwilliam Darcy?" by economist Brad DeLong

Index of Characters for Pride and Prejudice at www.Pemberley.com



Back to Novels of 19th Century Europe

Back to Directory of Book Reviews