In the Name of the King
by A.L. Berridge
Reviewed by Margaret Donsbach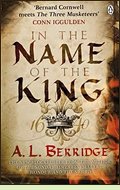 In the Name of the King is a swashbuckling sequel to Berridge's first novel, Honour and the Sword, about a young French nobleman during the Thirty Years' War. A rather creaky device provides the framework: in 1669, the "Abbé Fleuriot" seems to have assembled a half-dozen characters and interviewed them about the events of 1640; extracts from another character's diary supplement the interviews. The narrative cuts back and forth among these "sources" to tell how the seventeen-year-old Chevalier André de Roland attracts the vicious enmity of Bouchard, "a thick-necked fair man with odd eyes who strutted like a cockerel..."
Recklessly idealistic, André interrupts Bouchard's vengeful attempt to drown a barmaid in a horse trough. In the process, he sees too much. Bouchard is part of a traitorous conspiracy to hand France over to Spain. To keep their identities secret, the conspirators must kill André, a task Bouchard will find only too pleasurable. Complicating matters, the father and brother of the woman André loves are neck-deep in the conspiracy. For her own protection, André's beloved must appear to go along with their schemes.
Readers hoping to learn more about France's involvement in the Thirty Years' War may find this novel frustrating. Although details of period weaponry, architecture, battles and the like seem well researched, and Cardinal Richelieu makes a brief appearance, the larger-than-life characters' exploits are often frankly unbelievable, and the romanticized story pays only glancing attention to the politics behind the war or to French and Spanish battle strategies. A concluding "Historical Note" maintains the pretense of authenticity, muddying the question of how much is pure fiction and how much is genuinely grounded in history.
The narrative strives for the flavor of classic Three-Musketeers-style historical fiction from the eighteenth and nineteenth centuries. Readers who appreciate this may find In the Name of the King to be an enjoyable, if perhaps overlong, roller-coaster ride: fluff in the grand style. (2011; 492 pages, including a "Historical Note" by the author's alter-ego, "translator" Edward Morton)
More about In the Name of the King at Powell's Books or Amazon.com

Other swashbucklers:
The Three Musketeers by Alexandre Dumas (1844), about three musketeers in the French king's service and their young companion, pitted against the corrupt Cardinal Richelieu and a beautiful spy; #1 in the Three Musketeers series. More info
Captain Alatriste by Arturo Perez-Reverte (1996 in the original Spanish; 2005 in English), about a seventeenth-century Spanish swordsman hired by a mysterious stranger to ambush a pair of traveling Englishmen; #1 in a series. More info
The Cardinal's Blades by Pierre Pevel (2009), historical fantasy about a swordsman summoned by Cardinal Richelieu to protect France from its enemies in Spain and the Court of Dragons, where dragons, tame and wild, exist alongside humans. More info

Nonfiction about France during the Thirty Years' War:
Louis XIII, The Just by A. Lloyd Moote (1991), about the monarch who ruled France during the Thirty Years' War. More info
Eminence: Cardinal Richelieu and the Rise of France by Jean-Vincent Blanchard (2011), about the powerful adviser to the French king during the Thirty Years' War. More info
Richelieu and Olivares by John Huxtable Elliott (1984), about the men behind the seventeenth-century conflicts between France and Spain, Cardinal Richelieu and the Count-Duke of Olivares. More info

Online:
Back to Historical Novels: Seventeenth Century

Back to Directory of Book Reviews